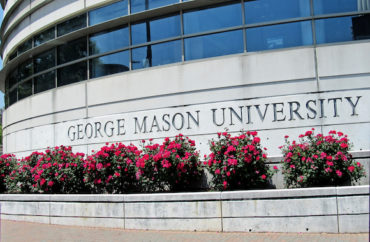 George Mason University sets candidate diversity equivalent with professional achievement
George Mason University is redefining its hiring practices to make candidate diversity equivalent with professional experience.
President Greogory Washington said in a recent email "we need a more comprehensive framework for what constitutes 'best'" in hiring faculty and staff.
He said in his April 15 email that his explanation came in response to concerns that college hiring must reflect achievement and preferring minorities would be illegal.
"If you have two candidates who are both 'above the bar' in terms of requirements for a position, but one adds to your diversity and the other does not, then why couldn't that candidate be better, even if that candidate may not have better credentials than the other candidate," Washington wrote.
Washington further argued that the faculty at GMU do not proportionally represent the ethnicities of the student body or the surrounding region. A vision of diversity and inclusion in hiring "is a recognition of the reality that our society's future lies in multicultural inclusion," he said in his email.
This begins by redefining "best" to include "lived experiences" as a top hiring criteria alongside professional aptitude, he stated. In short, "We either believe that diversity and inclusion can improve our performance, or we don't," Washington stated.
Consequently, Washington recommended hiring based jointly on teaching ability, research achievements, and openness to diversity. The result, he argued, will support minorities who don't have equal access to opportunities for success.
In response to an email from The College Fix, a university spokesperson said fighting racism includes "recommendations to improve hiring practices at Mason to ensure they are fair, inclusive and free of bias."
"… Hiring the best can only be accomplished if those hires reflect both excellence in credentials and the broad diversity of our students, the Commonwealth of Virginia, and the nation."
But writing in Liberty Unyielding, Washington D.C. attorney Hans Bader points out the plan is not supported by legal precedent.
"The fact that the faculty are not as diverse as the student body is no reason to expand the use of race in faculty hiring. For example, the Supreme Court ruled that a school district could not lay off white teachers based on their race in order to keep black teachers, even though 'the percentage of minority teachers was less than the percentage of minority students,'" Bader wrote.
Bader pointed out that the argument that a "diverse" candidate is "better" and should be hired over a white candidate has also been rejected by the courts.
"[A] federal appeals court rejected that argument when it was made by the City of New Orleans. The City unsuccessfully argued that Blacks can 'better supervise' and 'relate to' other Blacks. The Supreme Court rejected an argument similar to President Washington's in its Wygant decision, ruling that black teachers could not be given priority over whites just because they were 'role models' for black students," Bader wrote.
And by the numbers, Bader added, George Mason University already has more minority faculty than at most colleges.
MORE: Emory projects an $84 million hit from COVID. It's hiring yet another diversity and inclusion official.
IMAGE: Shutterstock
Like The College Fix on Facebook / Follow us on Twitter