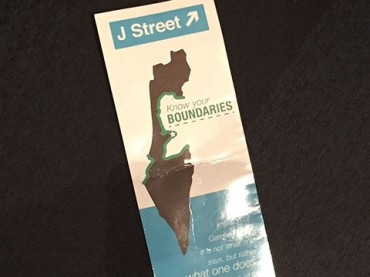 WASHINGTON, DC – An organization for "pro-Israel, pro-peace Americans" that bills itself as an alternative to groups such as the American Israel Public Affairs Committee has effectively thrown in its lot with the anti-Israel boycott, divestment and sanctions (BDS) movement.
Speakers at J Street's annual conference Saturday explicitly told attendees it would oppose the BDS movement – which like J Street has a strong college presence – even as J Street introduced a new pressure campaign that mirrors BDS recommendations.
Morton Halperin, a longtime White House foreign policy adviser and senior adviser to George Soros's Open Society Foundations, drew applause and cheers from 3,000 self-proclaimed Zionists as he opened the conference by demanding an end to the Israeli "occupation" of the Judea and Sumeria, better known outside Israel as the West Bank.
After Halperin said J Street would oppose the BDS movement – which often focuses on the towns and factories located over the "Green Line" that has marked the ceasefire line between Israel and occupying Jordanian troops since 1949 – J Street President Jeremy Ben-Ami effectively contradicted him.
Bookmark-sized pieces of glossy paper reading "Know your BOUNDARIES" sat on each seat in the conference hall. They depicted an image of Israel, whittled away by the absence of Judea and Sumeria entirely.
Ben-Ami told attendees these slips were part of a new campaign to pressure Jewish organizations to use maps of Israel that do not include territory over the Green Line. J Street and anti-Israel groups claim that Israel is occupying the land beyond this line and building illegal settlements, preventing a two-state solution.
Pointing to the other side of the bookmark, Ben-Ami told attendees to demand that their Jewish organizations, communities, federations and charities not send money over the Green Line.
Many Israeli organizations that receive support from American Jewish communities and charities help Jews living over the Green Line.
The bookmark lists abstract values that advocate a two-state solution and uses "anti-occupation" rhetoric. It concludes with a demand:
WITH THIS DONATION, I ASK THE FOLLOWING:
That you contact me to explain your official organizational policy regarding funding to projects beyond the Green Line.
That if a policy exists, it is put on your website for the community to see, in the name of transparency.
That my dollars stay within democratic Israel and do not go to projects beyond the Green Line.
The language closely follows that of the BDS website, whose divestment page says: "Activists can also pressure public and private sector institutions not to invest in or have dealings with … corporations complicit in the violation of international law and Palestinian rights," meaning companies doing business beyond the Green Line.
Ben-Ami told attendees to include this signed bookmark with all of their future donations to Jewish organizations.
J Street has a strong presence on college campuses through its J Street U program. Two of its student leaders questioned whether Hillel is "a pro-Israel organization or just an anti-BDS organization" after Hillel CEO Eric Fingerhut dropped out of speaking to the conference, in an op-ed for JTA.
A Hillel official cited J Street's inclusion of Saeb Erekat, who served as chief negotiator for the Palestinian Liberation Organization, as the rationale for Fingerhut's pullout, in a response to JTA. Erekat has compared Israel to the self-proclaimed Islamic State.
In response to Fingerhut's cancellation, a portion of the 1,100 students registered for the conference walked to Hillel International's headquarters on Monday to protest.
College Fix reporter Sandor Farkas is a student at Dartmouth College.
Like The College Fix on Facebook / Follow us on Twitter
IMAGES: Sandor Farkas, Elder of Ziyon/Blogger