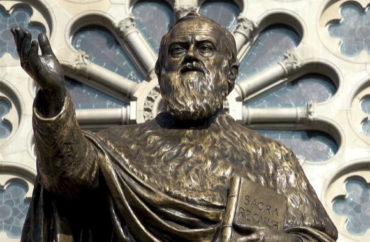 Forced to hand its oversight over 'to an administrative apparatchik'
The director of Saint Vincent College's Center for Political and Economic Thought said he is concerned a new pre-approval policy for guest lectures will harm the academic freedom and free discourse the program has enjoyed for many years.
Brad Watson, who leads the center and is also a political science professor at the private, Pennsylvania-based school, said in an email to The College Fix that the center "is one of the oldest and most renowned collegiate centers of its kind in the nation."
He said it has "long organized major scholarly events that feature arguments contrary to the overwhelmingly progressive orthodoxy that dominates college campuses."
"Many people believe the new speaker policy, and the assertion of administrative control, will in effect destroy the Center and silence its unique voice," he said via email.
The Center for Political and Economic Thought, founded in 1991, describes itself as "an interdisciplinary public affairs institution of Saint Vincent College."
"It sponsors research and education programs, primarily in the fields of politics, economics and moral-cultural affairs. The Center seeks to advance scholarship on philosophical and policy concerns related to freedom and Western civilization with particular regard to the American experience."
Saint Vincent media affairs division and its President Paul Taylor have not responded to The College Fix's requests for comment.
The Center for Political and Economic Thought in April hosted a "Panic, Policy and Politics" conference that featured a parade of independent-minded and classically liberal professors such as David Azerrad of Hillsdale College, political scientist Wilfred Reilly, and Professor Allison Stanger of Middlebury College. The scholars all spoke on different topics.
For example, Professor Reilly's speech was about how data manipulation by big tech platforms contributes to fear and hysteria.
"The average upper-class woman thought that 9 percent of the U.S. population was dead from COVID," Reilly told The College Fix about his speech. "Letting 'experts' flood the public sphere with information and then censoring the center-right is very hypocritical."
But the speech that caused the most controversy — resulting in the pre-approval policy being put in place for future guests — was Azerrad's "Black Privilege and Racial Hysteria in Contemporary America" talk.
Azerrad's one-hour talk was primarily focused on how "special arrangements extended to black Americans, including lower academic standards and de facto immunity in many cities from prosecution for low-level felonies, profoundly disserves both them and their fellow citizens," City Journal reports.
According to both Azerrad and Reilly, most people who came to the event were pretty tolerant and engaged in conversation. It was after the speech when the controversy started.
"I actually didn't get much backlash when I gave the speech," Azerrad said in an interview with The College Fix. "There were a couple of light heckles. No one interrupted me during the speech. I thought the Q and A was quite respectable."
"What shocked me was what happened afterwards," Azerrad continued. "A handful of students complained to the school which resulted in the school making a statement against me. I don't fault the students for being upset — kids will be kids. But the adults who run the universities should realize that college is a place where students can be exposed to different ideas. But it's the adults that are bending a knee."
Reilly, who teaches political science at Kentucky State University, agreed it was only a few student activists who made a big deal out of Azerrad's speech.
"We had a lot of smart and respectable people asking questions," he said. "Most students were there to listen and debate. Even the people who disagreed for the most part were respectable."
"The response of the university was to yield to the one complainer," Reilly said.
Keith Whitaker, chair of the board of the National Association of Scholars, also spoke at the April conference. He wrote on Minding the Campus that St. Vincent's administration sent an armed guard to Azerrad's presentation.
He also agreed the reaction to Azerrad's speech by administration was overblown, noting students who attended it "calmly shared their hurt, resentment, and (frankly) their misunderstanding of the argument. (And Prof. Azerrad calmly answered them)."
"After the talk," Whitaker added, "the administration hastily forbade CPET from publishing the videos of all the presentations. They relented a few days later in the face of outcries over academic freedom. Still, the dean of the college was required to publish a Soviet-style 'regret' that more or less labeled Prof. Azerrad a bigot."
"One of the college's trustees gave an interview to the local paper calling the talk 'rage-inducing.' [Next the college] announced that effective immediately the President's Office must pre-approve any invited speaker, to ensure that their messages do not contravene the college's 'mission' to 'lift up human dignity … and move the world forward.'"
Whitaker added that the center, which he described as "one of the oldest collegiate centers of its kind," has been forced to hand its oversight "to an administrative apparatchik."
MORE: 'Black privilege' speech prompts college to create pre-approval policy for guest lectures
IMAGE: Saint Vincent College / YouTube screenshot
Like The College Fix on Facebook / Follow us on Twitter