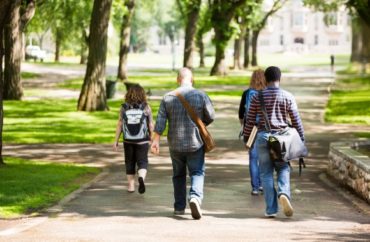 They're the unsung heroes of higher ed, but still need to improve their graduation rates
A report recently published by the American Enterprise Institute found that elite, big-name universities are often outpaced by their lesser-known peer institutions when it comes to giving more students a leg up in future earnings.
That's because these non-elite campuses often enroll more first-generation, black, Hispanic and adult students, and for those who graduate, many end up at higher-paying jobs than that of their parents, the report found.
"They are the main vehicle by which the majority of students are moving up the social ladder, but there is room for improvement," the report's author Jorge Klor de Alva told The College Fix.
He is referring to the need for the universities to improve their graduation rates. The number one way for young people to get from the first two quintiles to the upper two quintiles of income earnings is graduation, he said.
"That is the single most important thing," Klor de Alva said. "If the student is not graduating, that is not happening."
The "comprehensive" universities focused on in the study are defined by the report as "public institutions that primarily enroll students who live near the school and educate their students chiefly for jobs in the local economy."
They are not elite institutions, well-known research universities or state flagship schools, but they are the "workhorse" of higher education, according to the report, which noted there's more than "400 comprehensive universities in the nation, educating over 70 percent of undergraduates at four-year public institutions."
And they help plenty of students gain upward mobility, according to the report.
"In sum, simplistic assumptions that selective schools do better at leading students to higher incomes than nonselective ones are not borne out in the data," according to the report, titled "Is the university next door the way to upward mobility?"
Klor de Alva, president of the Nexus Research and Policy Center, used data from the Equality of Opportunity Project to crunch the numbers.
"In a sample of 307 comprehensive universities, more than half the students raised in households in the two lowest-income quintiles managed to reach the two highest quintiles by their 30s," the report found.
While elite universities may have better reputations and more selective admissions requirements, and spend more money per student, that doesn't necessarily translate into the most upward mobility, the report found.
What does it all mean? Writing in Forbes, Michael Nietzel, president emeritus of Missouri State University, noted that "although it's elite, highly selective colleges that grab most of the headlines – good and bad – and dominate the public's image of higher education, it's public comprehensive universities that do the lion's share of educating students."
"Comprehensive universities are very unlike their more elevated, ritzy peers. They accept more students than they reject. They enroll higher shares of Pell recipients, ethnic minorities and first-generation-to-college students. They serve more part-time students and adults returning to school. Their tuition is typically a fraction of that charged by top-ranked schools. They train most of the nation's school teachers," Nietzel wrote.
"Keep those facts in mind the next time you hear someone castigate higher education as an example of corruption or failed elitism," he added. "America's comprehensive universities are engines of social mobility for millions of students who didn't cheat on an admissions test, bribe an official, or fake being a lacrosse player to receive an education that will change their lives."
While there is much to celebrate when it comes to comprehensive universities, Klor de Alva told The College Fix they must improve graduation rates. Some comprehensive universities do a far better job than others, he said. On average, they have a 60 percent graduation rate, he said.
"There are schools that are quite frankly not doing their job," he said, noting institutions in the same competitive level, receiving the same financial support, and enrolling the same type of student body, show a wide variance in terms of results.
"It's not enough to say, 'Oh, but we are not selective,' 'Oh, but we have more minority students or non-traditional students,' or 'Oh, we are not getting sufficient funding,'" he said. "Comprehensive universities need to step up their game."
In terms of solutions, he said "there is no silver bullet."
"Different schools with different missions have to have their own set of best practices."
MORE: Nearly 40 percent of graduating college seniors feel unprepared for a career: survey
IMAGE: Tyler Olson / Shutterstock
Like The College Fix on Facebook / Follow us on Twitter