As I was nearing college graduation 20 years ago, my friend Khoa and I had a discussion about what we were going to do next. He said he was applying for medical schools, but despite his stellar grades, he had received a few rejection letters.
He told me that some schools – the University of Oregon among them – had sent him letters telling him they were no longer accepting "international" students. But he knew what the letters really meant – the schools had simply reached their quotas of Asian students.
Yet despite his Korean name, Khoa had been born and raised in Mequon, Wisconsin. He was exactly as "international" as I was. Yet it was simply my grades that kept me from attending medical school, not because there was a surplus of lederhosen-clad medical students with German surnames roaming elite campuses.
The problems inherent in this brand of racial bean-counting reached their logical conclusion this week when parents said a man accused of rigging college admissions for wealthy people had urged some of them to list their children as favored ethnic minorities. William "Rick" Singer, a counselor who has now pled guilty in a highly publicized college admittance fraud case, allegedly told some parents that refusing to classify their children as African-American or Hispanic put them at a "competitive disadvantage" over other white students.
Such affirmative action-related shenanigans shouldn't come as a surprise to anyone who hasn't been adrift at sea for the past four decades. It was actually over 30 years ago that the unfortunately anachronistic film "Soul Man" made its debut, in which a white student played by C. Thomas Howell took "tanning pills" to gain favored entrance into his preferred school.
In 2016, a book written by Vijay Jojo Chokal-Ingam (brother of actress and comedian Mindy Kaling) detailed how he, too, misrepresented himself as African-American to gain entrance into a prestigious medical school.
"The data suggested that an Indian-American with my grades (3.1 GPA) and test scores (31 MCAT) was unlikely to gain admission to medical school," wrote Chokal-Ingam, "but an African-American with the same grades and test scores had a high probability of admission."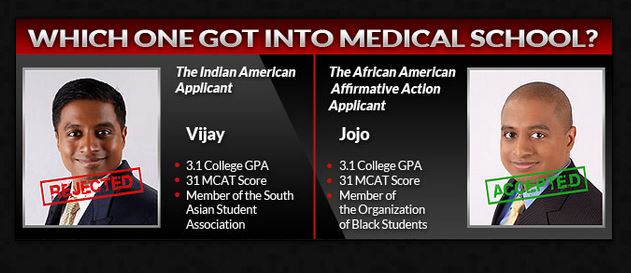 "I wondered if I could pull it off by being completely honest about everything except, of course, my . . . race," he wrote. So he shaved his head, went by his middle name "JoJo," and he got in. (And eventually dropped out.)
Yet with this more recent round of identity fakery, it is the purveyors of the scam that are being punished and the enablers – the universities desperate for "diversity" – are escaping culpability.
It is the universities themselves that are trying to manufacture an "ideal" racial makeup on campus, all but inviting such scams. It's the same type of multicultural fever that rewards, say, a college professor who claims she is part Native American, when in fact a DNA test shows she may have only a hint of Native American genes. (And who consistently lied about never having claimed she was part-Indian.)
Clearly, lying about one's racial identity is wrong – but in a country where racial makeup is growing more complex and college admittance is as competitive as ever, students can hardly be blamed for trying to give themselves a leg up. Colleges are basically begging to be duped – this is akin to publishing your HBO NOW login credentials online and politely asking people not to use your password to watch "Game of Thrones."
Having evidently learned nothing, the College Board has opened up an entirely new avenue to fraud. The company says it will tack a new "adversity score" on to the SAT test to factor in a student's socioeconomic upbringing, which is simply a race-neutral way of granting an extra benefit to African-American and Hispanic students.
Of course, the board has not said how this new score will be calculated. If it is up to the students to detail their own adversity, however, get ready for a torrent of Emmas and Liams complaining about the time wi-fi was spotty at stepdad's house or how they once were forced to listen to an old person warning them not to run up credit card debt.
In other words, if you thought the creative writing portion of the SAT test was lively before, it's about to get a lot more exciting. Ironically, for many students, the greatest adversity they will face is being discriminated against based on their names and skin color by race-obsessed college bureaucrats.
MORE: The problem with affirmative action in one picture
IMAGE: Shutterstock
Like The College Fix on Facebook / Follow us on Twitter