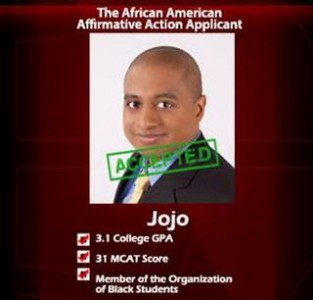 "The true story of an Indian American who got into medical school by pretending to be an African American."
So says Vijay Chokal-Ingam, the brother of Mindy Kaling from the hit TV show "The Mindy Project," who has just come out of the closet.
On his new website Almost Black, he has gone public with the story of how, 15 years ago, he got into med school by pretending to be black.
As they say, a picture is worth 1,000 words: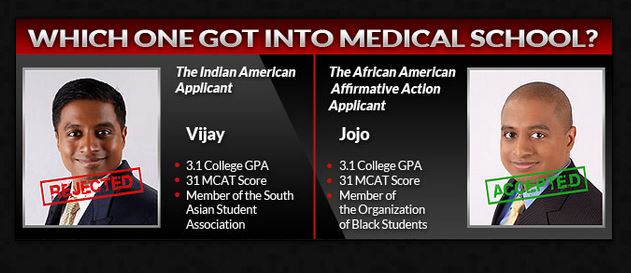 His Almost Black website states in part:
In my junior year of college, I realized that I didn't have the grades or test scores to get into medical school, at least not as an Indian-American.

Still, I was determined to become a doctor and I knew that admission standards for certain minorities under affirmative action were, let's say… less stringent?

So, I shaved my head, trimmed my long Indian eyelashes, and applied to medical school as a black man. My change in appearance was so startling that my own fraternity brothers didn't recognize me at first.  I even joined the Organization of Black Students and started using my embarrassing middle name that I had hidden from all of my friends since I was a 9 years old.

Vijay the Indian-American frat boy become Jojo the African American Affirmative Action applicant to medical school.

Not everything worked out as planned. Cops harassed me. Store clerks accused me of shoplifting. Women were either scared of me or couldn't keep their hands off me. What started as a devious ploy to gain admission to medical school turned into twisted social experiment.

I became a serious contender at some of the greatest medical schools in America, including Harvard, Wash U, UPenn, Case Western, and Columbia. In all, I interviewed at eleven prestigious medical schools in 9 major cities across America, while posing a black man.

Not bad for a kid with a 3.1 College GPA, heh?

My plan actually worked. Lucky for you, I never became a doctor.
The New York Post reports Chokal-Ingam "wound up dropping out of St. Louis University Medical School two years after he got in under false pretenses. He eventually was accepted at, and graduated from, UCLA Anderson's MBA program — as an Asian Indian-American."
The Post also interviewed Chokal-Ingam:
"I love my sister to death," Chokal-Ingam, 38, told The Post in a telephone interview from Los Angeles, where he and his comedienne sibling both live. But they're fighting over his revelation. "She says this will bring shame on the family." …

Chokal-Ingam says he's revealing his race ruse now because he heard that UCLA is considering strengthening its affirmative-action admissions policies. He says it's a myth that affirmative action benefits the underprivileged.

… Chokal-Ingam said, "Racism is not the answer…. It also promotes negative stereotypes about the competency of minority Americans by making it seem like they need special treatment."
Chokal-Ingam actually Tweeted out one of The College Fix's recent stories, and by reading the headline you probably won't be surprised as to why:
Professor explains how affirmative action is 'Very damaging to blacks and minorities' http://t.co/1TYbbGtHgG@CollegeFix

— Vijay Chokal-Ingam (@VijayIngam) April 1, 2015
The article featured University of Michigan philosophy professor Carl Cohen, a liberal scholar who has argued against affirmative action for decades.
"When admission preference is associated with skin color, the result is the strengthening of the ignorant stereotype that people having skins of that color are intellectually weak. This a canard, but it is reinforced by preference," Cohen told The Fix. "Preference in admission is a very bad thing for the minority preferred! It is also morally wrong, because it violates the fundamental principle that the races must be treated equally in a decent society."
Like The College Fix on Facebook / Follow us on Twitter
IMAGES: Almost Black