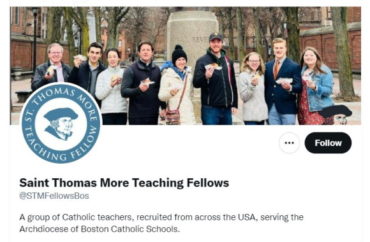 UPDATED
For Thomas Carroll, Catholic K-12 education isn't just about getting into a good college. It's everything.
"If the church is going to be saved, the next generation needs to be catechized," said Carroll in an interview with The College Fix.
"The culture has eroded children. It is important to make sure that Western culture and civilization is there for future generations, that the culture is passed on."
As Superintendent of Schools for the Catholic Archdiocese of Boston, Carroll has had a front row seat for the fall of Catholic school viability — and said he believes a budding program, the St. Thomas More Teaching Fellows, will "inject new blood" into his schools.
The St. Thomas More Fellows opened for applicants at the end of last year and has since gathered over 20 academically earnest and faith-centered college graduates to teach in Boston archdiocesan schools.
The key qualities of the St. Thomas More Fellows include: a deep Catholic faith, intellectual curiosity, a commitment to academic rigor, love of children, and an evangelizing spirit, according to a pamphlet promoting the program.
The program requires a two-year commitment, promises a strong academic and faith-based community, and encourages the personal growth of its members.
This clarity of vision is ultimately what led Troy Norman, a 2012 graduate from the University of Vermont, to become a a teaching fellow, he said.
"It makes you that much more driven to pursue that goal because you know what you're pursuing," said Norman in an interview with The College Fix.
Fellow Shannon Wieszczek, who graduated from Franciscan University of Steubenville in 2021, expressed similar sentiments.
"We are going into schools to teach with the goal of forming students in the truth," Wieszczek said.
As a part of their training and formation, our Fellows have had the opportunity to teach sample seminars to Lumen Verum Academy's students this summer in preparation for the upcoming school year. @bostoncathsupt @csoboston @truelightboston

PC: George Martell pic.twitter.com/FJ0n3iWuLx

— Saint Thomas More Teaching Fellows (@STMFellowsBos) August 10, 2022
Carroll said he believes his new teaching fellows will be the key to passing on Western culture to the next generation. He recruits mainly from four-year liberal arts programs at Catholic colleges recognized for their orthodoxy by the Cardinal Newman Society.
The archdiocese has 101 schools and over 32,500 students, making it one of the largest concentrations of Catholics in the U.S., according to Carroll.
A critical component of the teaching fellows is their formation.
Steven Rummelsberg, executive director of the program, described the five-week course he instructs fellows in as a "bootcamp designed to form our fellows in the arts of an authentic Catholic education."
As part of developing this vision, Rummelsberg said formation focuses on intellectual, spiritual, practical and psychological growth.
"The heart of the teacher is to understand the difference between classroom leadership instead of classroom management," Rummelsberg said. "Classroom management is a form of behaviorism where we judge by externals and measurables exclusively to determine what kinds of outcomes we want from students in the classroom."
Rummelsberg described this approach as "dehumanizing." Instead, he proposes a "virtue-based" set of guidelines by which fellows can instruct their students.
Rummelsberg said there are five areas of expertise required for a fellow to shift from classroom management to classroom leadership: good will, attention to "excellent subject matter," committed study, faith in one's abilities, and docility.
By achieving proficiency in these five areas, Rummelsberg said he believes the program can raise up true teachers that lead instead of manage in Catholic schools.
The impact will be huge, he added.
"This is no longer an age of Christendom … this is an apostolic age," Rummelsberg said. "To reform them [Catholic schools] would go a long way to restoring the domestic church – the family – and reorienting this country towards authentic virtues necessary to flourish as a republic."
Maria Carneckis, a current teaching fellow and class of 2022 graduate from the Franciscan University of Steubenville, said the effort is a worthwhile aspiration.
She and other fellows said they hold a general admiration and excitement for the formation that prepares them to lead in the classroom.
"It is about virtue and love of learning instead of doing busy work," said Carneckis, who graduated with a degree in humanities and Catholic culture. "They form us as teachers on the practical side and also the primary focus is to further form us as human beings."
"You must not abandon the ship in a storm because you cannot control the winds….What you cannot turn to good, you must at least make as little bad as you can." – St. Thomas More

PC: George Martell pic.twitter.com/9362aDaGJY

— Saint Thomas More Teaching Fellows (@STMFellowsBos) August 8, 2022
Carneckis also gave The College Fix a window into the day-to-day life of a fellow. She said they meet daily in a Socratic-style class that begins with "music to incline our hearts and souls to the good, true, and beautiful."
The class continues with discussion of a quote and regularly scheduled guest lecturers. Recently, the fellows were visited by St. Thomas More scholar Professor Gerry Wegemer of the University of Dallas.
"The program itself is very cultivating," Carneckis said, adding that socials and communal living supplement the formation's academic rigor.
Carroll said the recruiting season for 2023-24 is approaching quickly. Applicants interested in the teaching fellows program can email him at thomas_carroll [at] rcab.org for more information.
Editor's note: This article has been amended to correct that the archdiocese has over 32,500 students.
MORE: 'Catholic intellectual tradition' group reaches 80 campus chapters
IMAGE: Twitter screenshot
Like The College Fix on Facebook / Follow us on Twitter