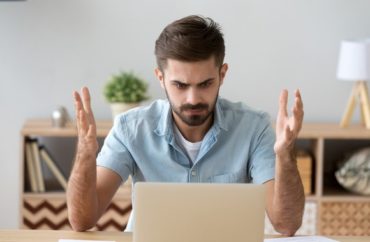 Several incognito Twitter accounts have publicized anonymous allegations of rape and sexual assault against people at their respective colleges
Twitter accounts with unidentified owners attempting to "expose" alleged rapists within their campus communities have recently been created.
Anonymous accusers submit descriptions of their assaults through direct messages. The accounts then post the story along with the name and photo of the alleged assailant.
One of the first accounts to emerge earlier this month was "Assaulters at UMich" (@AtUMich), which has been dealing with accusations at the University of Michigan.
Currently holding over 11,300 followers, it posts allegations against a large number of students and alumni, including a beloved former quarterback and even a university professor.
The tweets are protected and only approved followers can see @AtUmich's tweets.
The moderator of @AtUMich did not respond to The College Fix's request for comment.
The account did tweet out this message: "I will not disbelieve a survivor, until the accused is proved innocent. That is unfair and wrong."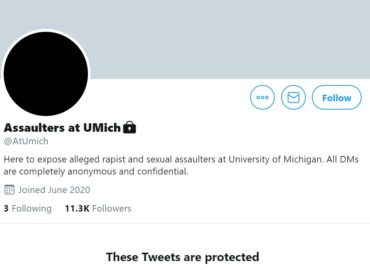 Accounts with smaller followings have also been created, focused on campuses such as Oakland University, Grand Valley State, Western Michigan, and UCLA.
All of the accounts state they were created in June 2020, and most are private, meaning only approved followers can see their tweets.
They come in the wake of new guidelines put out by the U.S. Department of Education for adjudicating campus sexual assault claims. The guidelines aim to better protect the due process rights of accused students.
None of these accounts are officially affiliated with their respective universities. Additionally, while they might have had some communication with each other, they seem to work mostly independently. In other words, it does not appear to be some sort of coordinated effort.
In another example, "Assaulters at RU" (@AtRutgersU) has taken up a similar mantle for Rutgers University. It has over 5,400 followers.
The Twitter account holder for Assaulters at RU told The College Fix through a direct message that they were inspired by the Michigan account. They declined to provide their identity but did reveal that they were a student at Rutgers.
"I made this so people who aren't able to voice themselves publicly can finally come forward about what happened to them and so that others are aware," the moderator stated.
The Rutgers moderator said they assume allegations they receive are true. If there is evidence that would discredit an accusation, the post is deleted, the moderator said, adding several claims have in fact been deleted.
While the moderator did express concern over the potential for false allegations, he or she told The Fix they are not deterred.
"The fact of the matter is false rape allegations very rarely lead to convictions or wrongful jail time," they said, citing a study which found that between 2 percent and 10 percent of allegations are proven false.
"All I can say is it is absolutely inappropriate for someone to sexually assault or rape someone and not receive consequences. Realistically speaking, will any of the people we post face any legal consequences or any consequences from the university? Probably not. They'll probably receive a bad reputation for a few weeks until people forget."
"My goal is so that people do not forget," the Assaulters at RU moderator told The Fix.
The moderator reported receiving backlash in the form of threats to file police reports, cease and desist orders, and general criticism. However, the moderator said this backlash is "100% worth all the messages of support and victims who have come forward publicly."
The interview took place last week. The account has since announced that it will stop publishing accusations.
Michigan State University has seen multiple accounts surface. The first one, "Justice For MSU" (@JusticeForSTATE), has stopped posting, citing threats. They did not reply to requests for comment.
Another account, however, called "Justice For STATE 2.0 (@MSUJustice2) appears to have continued the mission of the first one.
The moderator of the account told The College Fix that "I have not personally vetted any of the allegations that are sent to me. I am not a court of law."
"Anyone who wishes to refute the information posted has that opportunity be that inside a courtroom or in the court of public opinion," the moderator continued via direct message.
This account also offers a rebuttal in the form of a tweet to those who believe what they are doing to be inappropriate, asking: "What is the appropriate way? What is the way that silenced voices can be heard when they fear for their lives?"
The moderator said there are flaws in the way rape is prosecuted.
"Until the system can change so that there's accountability for people who violate others without the backlash of those victims – pages like this will continue to exist," they told The Fix.
University administrations have taken note of the accounts' activities.
"We encourage anyone who experiences sexual misconduct within our community to report it to police and the Office for Institutional Equity so those concerns can be thoroughly and appropriately investigated. Anonymous reports are very difficult or impossible to investigate fully," University of Michigan spokesman Rick Fitzgerald told The College Fix via email.
"We are not in a position to confirm or deny any of [the allegations]," he added.
Michigan State spokeswoman Emily Guerrant told The College Fix: "As mandatory reporters, our social media staff has referred all the references to someone being assaulted to our Office of Institutional Equity (housed within the MSU Title IX Office) so they can be investigated and reviewed."
The Rutgers University spokesperson did not reply to The Fix's repeated inquiries.
MORE: 'Make them scared' website posts uncorroborated sexual assault claims against male students
IMAGE: Fizkes / Shutterstock
Like The College Fix on Facebook / Follow us on Twitter