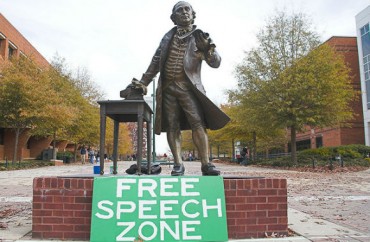 Board of governors considers proposal to 'restore and preserve free speech' in university system
A new policy under consideration by the University of North Carolina Board of Governors would permit the expulsion of students who "repeatedly disrupt freedom of speech or expression on campus."
The rule follows the state legislature's passage of a campus free speech law in August, one which called for colleges to pass sanctions on students who substantially burden free speech on campuses.
An initial draft of the holds that "any student or employee is 'subject to disciplinary action ranging from counseling, warnings, suspensions and dismissals or expulsions' if they "engage in misconduct," according to The Daily Tarheel.
The Fix reported in August on the passage of the free speech law, quoting the Foundation for Individual Rights in Education:
The language of this law is different from laws or bills in other states requiring specific mandatory minimum sanctions for students who materially disrupt the free expression of others. Instead, this law reminds institutions that they have an obligation to take action when people engage in conduct that silences their opponents on campus, while giving institutions the flexibility to evaluate each case in its individual context. This helps to ensure that those who shout down a campus speaker aren't required to be treated the same as those who physically assault a speaker.
According to The Tarheel, the law also mandates that any campus policy that protects free speech must affirm "that it is not the proper role of any constituent institution to shield individuals from speech protected by the First Amendment, including, without limitation, ideas and opinions they find unwelcome, disagreeable, or even deeply offensive."
Colleges are increasingly grappling with the free speech problems on their campuses. Last month, Evergreen State College, which was waylaid in the spring by tumultuous, sometimes violent protests, released a "free speech guide" at the same time that it sanctioned nearly two hundred students for their behavior during the uproar. And at UC Berkeley recently, professors urged a boycott and walkout of the university during its "free speech week."
MORE: Poll: large numbers of college students ambivalent about, hostile to free speech
IMAGE: Flickr
Like The College Fix on Facebook / Follow us on Twitter