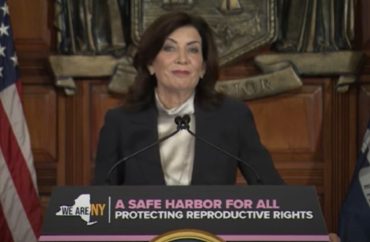 Governor said RU-486 abortion drugs help students deal with an 'unwanted pregnancy'
Students at public college campuses in New York will have access to RU-486 chemical abortion drugs soon, due to a recent law signed by Democratic Governor Kathy Hochul.
Gov. Hochul signed the legislation, which "provides access to medication abortion prescription drugs at SUNY and CUNY campuses by employing or contracting with individuals authorized to prescribe such drugs, or by providing referrals," according to the state senate's summary.
The bill takes effect on August 1.
Hochul said the bill is important to help students with an "unwanted pregnancy," referring to a preborn baby.
"Students will be able to…seek out and receive medication abortion on all the campuses and for hundreds of thousands of young New Yorkers this legislation will make the difference between an unwanted pregnancy and a future where they can decide what they want to do," Hochul said at the bill signing on Tuesday.
"As anti-choice extremists and judges continue to roll back abortion rights across the country, we are fighting back here in New York," Hochul said. "I am proud to sign these landmark pieces of legislation that protect and expand access to abortion and reproductive health care. Under my watch, I will continue to ensure that New York remains a safe harbor for those in need of care."
She said the state must push back against the "powerful forces" of "regression" and "oppression," in apparent reference to states that have have passed laws to protect preborn babies from abortion.
Attorney General Letitia James also said:
It is your body, and here in New York, it will always be your choice. While extremists across the nation continue their unrelenting assault on our most basic human rights, I am proud that in our great state we are working hard every day to protect reproductive freedom, including expanding access to birth control and ensuring that medication abortion is available to students on every SUNY and CUNY campus. Thank you to Governor Hochul and the State Legislature for their leadership on this critical issue. Together, we will continue to fight to ensure all New Yorkers are able to make their own decisions about their own bodies.
Both Massachusetts and California have similar laws in effect.
The New York State Catholic Conference previously criticized the legislation.
"Young women attending college are often experiencing true independence for the first time. They are away from family and support systems," the advocacy group for Catholics in New York stated. "The social pressures and availability of harmful substances combine to make campus a wholly inappropriate place to offer dangerous medication to young women, some as young as 17."
"As with so many bills that expand abortion, the sponsors claim to support women," the Catholic lobbying group wrote. "The lack of safeguards or true consideration for women's health within this provision would do the opposite. The potential for harm to young women if this bill were to pass is unconscionable."
MORE: Sociology adjunct screeches while being arrested for unplugging pro-life display
IMAGE: Governor Kathy Hochul/YouTube
Like The College Fix on Facebook / Follow us on Twitter