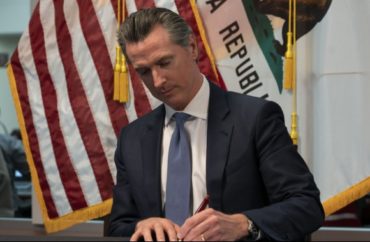 COVID has not slowed down implementation of 2019 law
Despite ongoing lockdowns in California, public universities are on pace to implement legislation that requires distribution of RU-486 abortion drugs. These abortions are commonly known as chemical abortions because they use drugs to end a pregnancy.
Gov. Gavin Newsom signed Senate Bill 24 in 2019. Similar legislation failed in 2018 after Democratic Governor Jerry Brown vetoed the legislation that requires all the public health centers in the University of California and California State University system to distribute the drugs.
The 23 CSU universities "are prepared to meet" the January 1, 2023, deadline for implementation, Toni Molle, a spokesperson for the chancellor's office, told The College Fix via email. "The COVID-19 pandemic has not deterred or impacted implementation planning."
Molle said that medical professionals are advising universities on the implementation of the law.
"A working group comprised of health services professionals is determining the needs of each campus to implement the legislation," Molle said. "Results of their work will inform training curriculum and professional development strategies for staff in supporting abortion medication for students."
A spokesperson for the University of California system said its 10 campuses are on track to implement the requirement as well.
"Access to this health care service is currently available at UC Berkeley and expected soon at UCI [University of California Irvine]," Heather Harper said. "Other UC student health centers on UC campuses continue to work toward providing access to this service as outlined under state law."
MORE: Wyoming legislature bans abortion coverage in student health insurance
She said "[p]rogress toward readiness" has been slowed down by the pandemic. However, "implementation by the January 1, 2023 deadline established in the statute remains on track."
The abortion occurs generally with a combination of two drugs. Mifepristone blocks the hormones needed for a pregnancy to continue, according to the FDA website. Misoprostol then induces a miscarriage, which leads to an abortion of the unborn baby.
The abortion drug legislation would include taxpayer funding.
"The bill would continuously appropriate the moneys in that fund to the commission for allocations to each public university student health care services clinic," the bill said. The money is "for specified activities in preparation for providing abortion by medication techniques," the legislation said.
The office of the chief sponsor of the legislation, Democratic state Sen. Connie Leyva, shared a similar assessment.
The legislation "remains on schedule to meet the statutory requirement of implementation by January 1, 2023," Sergio Reyes, the communications director for Leyva, said in an email to The Fix. He said there have been no delays with implementation related to coronavirus.
Students for Life of America, a national pro-life student organization, mobilized students in the past several years to oppose the legislation.
"SFLA has been public about our willingness to support students and healthcare professionals in CA should they wish to raise a legal concern," Kristi Hamrick, spokesperson for Students for Life, said in an email to The Fix.
The Fix had asked if Students for Life had any legal challenges planned to halt implementation of the legislation.
"If you are a student or employee who is worried how this affects your #consciencerights message us and we will assist you," Students for Life said in October 2019, after Newsom signed the law. The pro-life group said it would support health center workers who did not want to participate in abortion.
Californians for Life, a pro-life group that worked to oppose the legislation, did not respond to an emailed request for comment on possible legal action and any planned activism against the implementation.
MORE: Dozens of schools cover 100 percent of abortions with health insurance coverage
Editor's note: College Fix assistant editor Matt Lamb assisted with opposition to Senate Bill 24 while working at Students for Life of America.
IMAGE: Governor of California office/Gov.ca.gov
Like The College Fix on Facebook / Follow us on Twitter