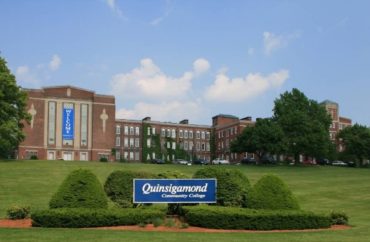 Suit alleges the professor told the class she dated a Nigerian man who stole her money
Leroy Gardner, a student at Quinsigamond Community College in Massachusetts, filed a civil lawsuit in a Boston district court against the school and his former professor, Arlene James, claiming unlawful discrimination in violation of the Civil Rights Act.
The College Fix sent Gardner a message via his LinkedIn page in November to ask if there had been any updates and when he expected the judge to determine whether the case would go to trial. No response has been received.
The Fix also reached out to Gardner's attorney, John Martin at Keches Law Group, on November 7 to ask whether he could answer questions. Martin has not responded.
Gardner's LinkedIn profile lists him as a student at Quinsigamond who received a certificate as a medical administrative assistant in 2021.
"James made repeated disparaging racial remarks about Nigerians that inferred the Plaintiff had a propensity for untrustworthiness and academic dishonesty based on his race/ethnicity," according to the complaint, filed with the United States District Court, District of Massachusetts.
Gardner is a Nigerian man, according to his complaint.
"Specifically, James told the class—including the Plaintiff—that she had an online romantic relationship with a Nigerian man whom she helped gain passage to the United States but that he stayed with her long enough to clean out her bank accounts and take out high interest loans in her name," it stated.
"You can't trust Nigerians," James also allegedly told the plaintiff and the class, according to the suit. "They'll steal your money."
Arlene James has retired from her position of instructor at Quinsigamond, according LinkedIn. The Fix contacted James in early November to ask whether she has any comments but has not received a response.
Gardner claimed James' disparaging comments about Nigerians during a medical administration class in summer 2021 was based on race and ethnicity and created a hostile academic environment prohibited by Title VI of the Civil Rights Act.
Title VI states that "no person in the United States shall, on the ground of race, color, or national origin, be excluded from participation in, be denied the benefits of, or be subjected to discrimination under any program or activity receiving Federal financial assistance," according to the U.S. Department of Labor.
Gardner also alleged in the suit that James regularly singled him out for academic scrutiny.
"When the Plaintiff and the class took an online examination, James stated to the class that the Plaintiff, in particular, needed to show his work area to her because she needed to see the area to be sure the Plaintiff was not cheating," according to the suit. 
Gardner contacted Kathleen Manning, dean of the Center for Workforce Development and Continuing Education, to express concerns about his treatment, according to the suit.
From there, Gardner directed his concerns to other college officials, including Dean of Students Theresa Vecchio, Dean of Compliance and Education Liz Woods and Affirmative Action Officer Sara Simms.
Simms then "investigated Gardner's allegations by interviewing James, Dean Manning, and other individuals identified as witnesses to the Plaintiff's discriminatory treatment," the suit stated.
Simms concluded that Gardner was "being harassed due to his protected class" and that "there was evidence found of discrimination and harassment," according to the suit.
"As a direct and proximate result of the Defendants' willful violations of the Plaintiff's clearly established rights under state and federal law, the Plaintiff has suffered and continues to suffer damages, including but not limited to emotional distress, mental anguish, diminished self-esteem, loss of interest in previous educational pursuits, financial harm, and setbacks in his emotional and educational development," the suit claimed.
Gardner demanded a trial by jury to secure damages against his former professor and the college.
The Fix contacted Kathleen Manning as well as Karen Hunter, a media representative at Quinsigamond, on November 7 to ask they could answer questions about the suit. Neither Manning nor Hunter has responded.
MORE: Students protest police for arresting black former student on trespassing charges
IMAGE: Quinsigamond Community College
Like The College Fix on Facebook / Follow us on Twitter