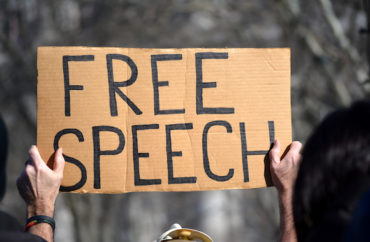 But a FIRE report finds more universities are loosening up restrictions
Nearly 90 percent of American colleges and universities maintain policies that restrict or inhibit student and faculty expression protected under the First Amendment.
That's the bad news from a new report released Tuesday by the Foundation for Individual Rights in Education.
"FIRE encourages colleges and universities to revise all policies that regulate expression so that they only ban expression that is not protected by the First Amendment, such as harassment or threats, as legally defined," Laura Beltz, senior program officer for FIRE and lead author of the study, told The College Fix in an email.
However, there is some good news, the education watchdog group reports as part of its "Spotlight on Speech Codes 2019: The State of Free Speech on Our Nation's Campuses."
A growing number of schools have either improved their speech codes, or have adopted or endorsed the "Chicago Statement" of free speech principles. Nevertheless, there is much more work to be done.
"Though these improvements in policy are heartening, free speech on campus remains under threat. Demands for censorship of student and faculty speech—whether originating on or off campus—are common, and universities continue to investigate and punish students and faculty over protected expression," FIRE's report states.
The report found that 28.5 percent of schools have a "red light" rating for their speech codes. A "red light" rating is defined as the college having "at least one policy that both clearly and substantially restricts freedom of speech."
This appears to be an improvement, as the report notes that number is a decrease of nearly four percent from last year, and a continuation of a steady decline from 2009, when the number was 45 percent higher.
Nearly 62 percent of universities earned FIRE's "yellow light" rating, defined as an institution "whose policies restrict a more limited amount of protected expression or, by virtue of their vague wording, could too easily be used to restrict protected expression."
And as a final sign of progress, 42 institutions were counted as having "green light" ratings, or simply having policies that do not imperil speech. This is an increase of seven from last year, and represents nine percent of all institutions.
The overall trend indicates that more institutions are moving toward yellow light ratings and away from red light ratings.
Beltz also noted that there appears to be a geographical trend in colleges developing more speech-friendly code.
"FIRE has seen a sort of domino effect in some states, where one university in a statewide system revises all its policies to a green light policy, and other schools in that system follow suit," Beltz told The Fix.
Speech codes also do not vary much based on whether a university is public or private, a press release from FIRE stated. A little more than 90 percent of public institutions do not have green light ratings, while around 88 percent of private institutions do not either.
"While some states have more green light, yellow light, or red light schools than others, I wouldn't say the best or worse are clustered in a particular area of the country," Beltz wrote to The Fix.
She continued:
For example, the Purdue University system has three green light schools, the University of North Carolina System includes seven green light schools, and, as of this year, the University System of New Hampshire now has three institutions on the green light list.
Another sign of progress is that more than 50 universities followed the University of Chicago's example of adopting or endorsing a version of the "Chicago Statement." The statement, from 2015, affirmed the university's commitment "to a completely free and open discussion of ideas."
"To this end, the University has a solemn responsibility not only to promote a lively and fearless freedom of debate and deliberation, but also to protect that freedom when others attempt to restrict it," the Chicago statement declares.
A growing number of schools are now following the university's lead. FIRE's report links to a list of schools that have adopted or endorsed the values espoused by the statement.
MORE: Study finds decrease in support for free speech
IMAGE: Christopher Penler / Shutterstock.com
Like The College Fix on Facebook / Follow us on Twitter