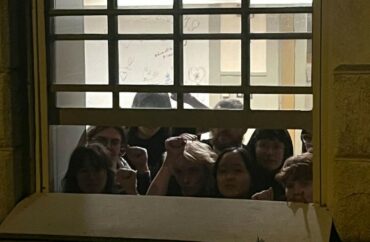 Administrators gave the occupying students Twizzlers, burritos
Harvard student political organizers affiliated with a pro-Palestinian group have occupied the campus' University Hall for more than 24 hours, demanding the university call for an Israel-Hamas ceasefire.
The demands of the nine occupiers (pictured) also include "the creation of an investigative committee on the presence of Islamophobia on campus, and a University statement asserting that anti-Zionism and antisemitism are not the same," The Harvard Crimson reported Friday.
As of Friday morning, the students remained inside the building with the doors locked, though organizers had opened a window screen to receive food and personal items.
No students have been arrested or otherwise disciplined.
Harvard College Dean Rakesh Khurana spoke to students inside the building just before 11 p.m. Thursday, offering them the chance to leave without facing the Administrative Board, which handles student disciplinary action, The Crimson reported.
Khurana also gave the demonstrators Twizzlers. Earlier that evening, Adams House Faculty Dean Salmaan Keshavjee brought them burritos.
The protesters gave Khurana three conditions under which they would leave the building: a written response to their demands, a meeting with University President Claudine Gay, and a guarantee that the Administrative Board would not publish them.
Khurana could not accept the offer, he said.
"What did we come here for? We came here to get f—–g arrested or Ad-Boarded if our demands weren't met," one occupier said in a speech through the basement window late Thursday.
The occupying students are affiliated with Harvard Jews for Palestine, an unrecognized Harvard student group demanding an Israel-Hamas ceasefire.
The group is "committed to solidarity with Palestine and demanding a ceasefire in Gaza," according to its Instagram.
The group held a rally Thursday morning to "commemorate 24 hours of the student sit-in at University Hall," according to an Instagram post.
MORE: Pro-Palestinian sit-in at Stanford approaches 3-week mark
IMAGE: @harvardj4p/Instagram
Like The College Fix on Facebook / Follow us on Twitter