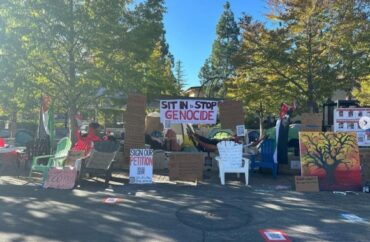 The students' list of demands includes resources for Palestinian students and divesting from Israel
Around 20 students at Stanford have participated in a "Sit-In to Stop Genocide" stretching out nearly three weeks.
Students began the sit-in shortly after Israel escalated a military campaign in Gaza in response to the Oct. 7 invasion of the country by Hamas, The Stanford Daily reported Thursday.
The sit-in's Instagram account posted a thank you note Sunday to the group's supporters, referring to a recent university threat to discipline the protesters.
"We thank everyone who sent emails to the administration requesting that they not take disciplinary action against the peaceful sit-in protest," the post read. "Your support has been immensely valuable, and the administration has retracted their threat for the time being."
Through their action, students hope to pressure the school's administration to respond to a list of demands, including giving resources to Palestinian students and divesting from Israel.
The founder of the sit-in, a Stanford master's student who asked to remain anonymous, told The Daily, "I thought the shock factor of having tents up in White Plaza would send a strong signal that this is a cause many people deeply care about."
Sit-in protester and Stanford student Draper Dayton told The Daily that the university's President Richard Saller and Provost Jenny Martinez met with Palestinian students Monday but did not meet with students at the sit-in or respond to their requests.
Students have occupied their campus' White Plaza in rotating shifts 24 hours a day for 19 days as of Wednesday, with some students sleeping at the site at night while others stay throughout the day.
Have a dozen tents house the sleeping protesters, several donated to the cause by its supporters. Supporters and students living in co-ops nearby provide food.
Photos of the sit-in published by The Daily and the group's Instagram show pro-Palestinian signs, including one reading "Jews 4 a Free Palestine" and another listing "Conversation Norms," stickers and printed materials, and a Palestinian flag,
"The protest has drawn students from a range of backgrounds who have varying levels of commitment," The Daily reported. "Some had already attended demonstrations on campus. Others joined after hearing about the sit-in from friends or email lists."
"Demonstrators said the threat of recording, and possible doxxing, is emotionally taxing," according to The Daily. Students sometimes put on face masks to hide their identities.
The site of the sit-in, White Plaza,"is a space available for student and other University programs, speeches, events, information tables, fairs, banners and posters," according to Stanford.
MORE: Students offered extra credit to attend anti-Israel protest
IMAGE: Instagram/@sit_in_to_stop_genocide
Like The College Fix on Facebook / Follow us on Twitter