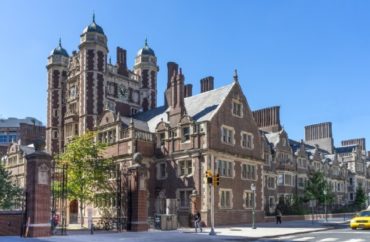 UPDATED
President has been under fire for her handling of antisemitism on campus
There is "no credible threat" from "vile, disturbing antisemitic emails threatening violence against members of our Jewish community," the University of Pennsylvania announced on Monday. However, it will continue to monitor the situation and the investigation remains ongoing. Potential culprits have yet to be identified.
The threats "specifically nam[ed] Penn Hillel and Lauder College House," according to the announcement on Monday. The threats targeted staff members based on their "personal identities."
President Liz Magill stated further:
At a time when campuses across the country are being targeted with these types of threats, my first and highest priority is the safety and security of our community. Threats of violence are not tolerated at Penn and will be met with swift and forceful action. Penn Public Safety is working urgently with the FBI to identify the individual or individuals who are responsible for these hateful, threatening emails and to ensure they are apprehended and punished to the fullest extent of the law. As I shared last week, Penn Police and Allied Security continue to provide increased security to Penn Hillel, the Katz Center, Lubavitch House, and other religious and cultural spaces, as well as at all rallies, protests, vigils, and other campus gatherings.

The perniciousness of antisemitic acts on our campus is causing deep hurt and fear for our Jewish students, faculty, and staff and shaking their sense of safety and belonging at Penn. This is intolerable. I condemn personally these vicious and hateful antisemitic acts and words.
The university has faced criticism for the way it has handled the response to the Israel-Hamas war. Billionaire Ronald Lauder, for whom the Lauder College House is named, announced he would be ceasing his donations due to what he saw as an unsatisfactory response to antisemitism.
President Magill has also faced criticism for her handling of a writer's festival at Penn that featured people who were staunchly anti-Israel, according to the student newspaper
The Daily Pennsylvanian reported:
The Palestine Writes festival previously sparked criticism from campus and national Jewish groups who said that the event featured speakers who had made antisemitic comments in the past. Magill and other University administrators released a statement in response to the criticism on Sept. 12, condemning antisemitism and emphasizing the University's support of free speech.
Magill also announced a plan on Nov. 1 to combat antisemitism.
Members of the Wharton School's Board of Advisors have called for the resignations on Magill and the Board of Trustees Chair Scott Bok, The Daily Pennsylvanian reported. Marc Rowan's demand gained the support of Penn alumnus Dick Wolf of "Law and Order" fame.
Editor's note: The article's headline was updated and several lines about the investigation remaining ongoing have been added.
MORE: Cornell student charged with threatening to slaughter Jewish students
IMAGE: Eileen_10/Shutterstock.com
Like The College Fix on Facebook / Follow us on Twitter