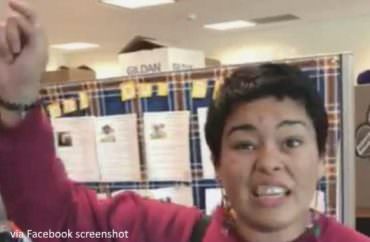 A now-graduated UC Riverside student who stole a peer's Make America Great Again hat off his head last fall and refused to give it back has pled guilty to petty theft and will not face jail time as long as she completes a court-appointed program.
Edith Macias originally was charged in November with grand theft for the September 27 incident that was recorded and went viral, but she has since taken anger management classes and also apologized to the student whose hat she stole.
"The defendant pled guilty to one count of petty theft and was referred to our standard deferred entry of judgment (DEJ) program, which requires the completion of a class in exchange for a dismissal," John Hall, a spokesman for the Riverside County District Attorney's Office, told The College Fix via email Monday.
"Prior to agreeing to the DEJ program, the defendant provided proof that she has already completed eight anger-management classes and wrote an apology letter to the victim and UCR. If the defendant does not complete the DEJ program as agreed upon, she would be sentenced to 10 days in county jail and three years of summary probation," Hall said.
The charge was filed after UC Riverside student Matthew Vitale, the student who had his Make America Great Again hat stolen off his head, decided to press criminal theft charges against Macias. Vitale told The College Fix he is satisfied with the outcome of the case.
"I'm happy with the agreement that Ms. Macias and her attorney reached with the DA's office," he said. "I think it's fair. I never set out to ruin her life. I simply wanted justice for the theft that happened to me."
However, Vitale said he did not find her apology letter sincere.
"It read like a fifth-grader wrote it, and when I saw her in court she didn't look changed at all. She looked exactly the same as the day she stole my property," said Vitale, who attended the sentencing on Friday.
Meanwhile, Vitale still wears his MAGA hat on campus.
"No one's bothered to take it, and no one really comments on it on campus," he said. "It definitely seems like I've lost some friends over this, but I wouldn't change a thing about how I handled this situation."
When the incident occurred last fall, a video of Macias grabbing the hat off Vitale's head was posted on Facebook by Macias, who stated in her self-titled "#Snatchahat" post: "'Make America Great Again' coded 'Continue the Genocide of POC'. You feel safe cuz you got the cops and politicians on your side. Youre not safe… just saying. We need to make racists scared." (The video has since been taken down.)
In a second video that went viral, Vitale follows her with his phone camera, demanding his hat back as she stormed into a student services office with the hat and declared: "UCR is letting people wear this shit on campus? Make American Great Again, really? There were lynchings and genocide and mass deportations. … I fucking hate this country. … And I am not leaving. … We need to get rid of all ya'll."
After Vitale demanded his hat back she replied: "Fuck your freedom of speech boy, your freedom of speech is literally killing a lot of people out there, your hats like these that promote laws and legislation that literally kill and murder people of color."
After Vitale requested charges be brought against Macias, he explained his motives to The College Fix: "I do want to send a message. I am not vindictive, I am not vengeful, but people especially in my generation need to realize you can't do things like this because you don't like what someone is saying or wearing."
MORE: Student swipes peer's MAGA hat, says 'f*ck your freedom of speech, boy'
MORE: Student whose MAGA hat stolen presses charges; thief's peers demand school pay her rent
Like The College Fix on Facebook / Follow us on Twitter