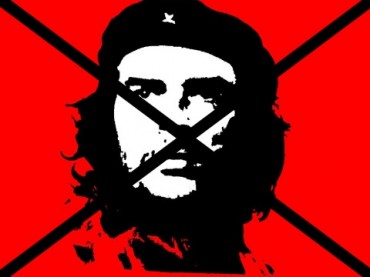 Pop quiz – who said the following – Che Guevara or Adolf Hitler?
"Youth must refrain from ungrateful questioning of governmental mandates. Instead, they must dedicate themselves to study, work and military service."

"The victory of Socialism is well worth millions of atomic victims!"

"Hatred is the central element of our struggle! Hatred so violent that it propels a human being beyond his natural limitations, making him a violent and cold- blooded killing machine."

"We must do away with all newspapers. A revolution cannot be accomplished with freedom of the press."

"Youth should learn to think and act as a mass. It is criminal to think as individuals!"

"I'd like to confess, Papa, at that moment I discovered that I really like killing."
If you answered Che, Che, Che, Che, Che and Che – give yourself an A.
Yes, one of the many dictator darlings of the Left – Che Guevara – is actually an international terrorist, mass murderer, and, clearly – a psychopath – and brave conservative students on campuses across America today will expose that truth to some of their uniformed, brainwashed peers and the professors who taught them.
Today marks "No More Che Day," an annual observance sponsored by Young America's Foundation, a nonprofit conservative organization. Every year since 2007, the group has provided college students hand outs, fliers and posters – as well as that "Who Said These Quotes – Che or Hitler" quiz – to teach about Che's extremist beliefs and his many atrocities. Another student display, a "Victims of Che Guevara" poster, features a photo montage of individuals murdered by Che and the Cuban Regime.
About four dozen colleges across America, as well as many high schools, will take part in the protest today, which coincides with the anniversary of Che's death.
"Without young conservatives participating in this event, most students would never learn the truth about Che Guevara's atrocities," Patrick Coyle, vice president of Young America's Foundation, said in an email to The College Fix.
Coyle described Che as a largely obscure, notorious figure idolized by the Left and hailed as a hero, adding most students never learn the truth about his history of violence.
"They don't know, for example, that Che murdered his friends who didn't completely reject democratic ideas," Coyle said. "He supported Castro's violent revolution of Cuba; he murdered children in his guerrilla camps for being accused of stealing food, and he authored the book 'Guerrilla Warfare,' where he explains the best methods to murder people."
YAF's efforts have prompted some backlash, Coyle said.
"Last year at the University of Maryland, some conservative activists were confronted by a number of angry leftists," he said. "Students at high schools have run into problems posting the flyers even on their own lockers."
Here's to a successful No More Che Day 2013.
Jennifer Kabbany is associate editor of The College Fix.
CLICK HERE to Like The College Fix on Facebook / TWITTER: @CollegeFix