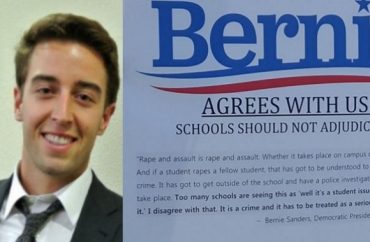 Andrew Cavarno is on a mission.
The 23-year-old history major and labor studies minor is about to graduate from UC Santa Barbara, and then it's off to pursue a law career. A self-described progressive with some libertarian leanings, his time as an undergrad has been spent hanging with frat brothers, pitching in with the UCSB Students for Bernie club, and enjoying studies and life on the coastal campus, where it's nearly always in the 70s and surf's up.
Yet his final semester at UCSB has taken something of an activist turn. It wasn't something he really planned, but it grew out of his frustration that campus rape statistics have been blown wholly out of proportion and too many professors and peers refuse to see the truth — or even debate the issue.
He should know — he recently asked dozens of feminist professors, student activists and rape advocates to debate him publicly on campus about the claim that one in five coeds are raped or sexually assaulted while in college. No one said yes. Not one.
In fact, he sent 165 emails to 50 different individuals and organizations in his quest to find someone to debate him, or simply present the other side, for his event "Is there a Rape Epidemic?: Rape Hysteria, Due Process, and Free Speech."
He sent debate invitations to outspoken student activists on campus, campus advocacy organizations, every feminist studies department professor at UCSB, every person working in UCSB's Title IX office, and UCSB Vice-Chancellor Margaret Klawunn. He also reached out to various rape crisis centers in the region, and made posts on social media in attempts to find individuals to present the affirmative position. No one would step up.
Once Cavarno realized he would not be able to find anyone locally, he broadened his scope and contacted virtually every major national advocacy organization he could find on the internet. He even offered to compensate people for their time and travel costs.
"A lot of what would happen is they would send me in the direction of another organization, say 'you should go talk to this person, you should go talk to that person.' Or once they realized I was questioning victim statistics, they would say they are not interested anymore," Cavarno told The College Fix. "When I started this it wasn't about not finding someone: If I send enough emails, make enough phone calls, talk to enough people — I'll find someone. Apparently not."
SurvJustice was the only group that seriously considered participating, but due to scheduling conflicts eventually dropped out, he added.
He ended up presenting "Is there a Rape Epidemic?" alone to about 50 people at UCSB last week. (Pictured)
In an interview with The College Fix, Cavarno said he believes feminist professors, student activists and rape advocates are unwilling to participate in a two-sided discussion because they have already achieved complete hegemony over the conversation.
"They have nothing to gain from engaging with the other side," he said. "They simply portray anyone who disagrees with the victim statistics as a sexist rape apologist, suggesting any skepticism could only be explained through bigotry or ignorance, rather than through genuine disagreement. This prevents people from questioning their narrative, for fear of being demonized as misogynistic or insensitive to rape survivors. This strategy effectively shuts down any meaningful opportunity to have a productive dialogue."
But Cavarno isn't giving up.
Last week, he and a handful of his friends counter-protested at a sexual assault rally on campus. They held signs with phrases such as

"Bernie agrees with us — schools should not adjudicate — sexual assault and rape are serious crimes" and "Harvard law agrees with us," complete with various quotes supporting their side.
"Our signs were very calculated and not incendiary," he said. "We were not trying to cause a problem."
That wasn't the first time Cavarno and his friends countered peers who propagate campus rape claims.
In early April, they sought to attend a screening of "The Hunting Ground" in the University Center. When they arrived with signs stating "Pro-due process is not anti-women" and "THG is propaganda," the student organizer told them to leave, that they were not welcome and were invading their safe space.
"She was snapping in my face, saying 'Get out of here,'" Cavarno said, adding that after a while it was agreed the "discussion" time was meant for after the screening. So Cavarno and his friends left for about an hour.
"When we came back the building was locked down," he said, adding a campus official there explained to Cavarno and his group that "we had to shut it down because people were trying to protest."
"I said, 'We are the protest,'" Cavarno said, to which the official replied: "This isn't a free speech building so the First Amendment doesn't apply."
Cavarno refused to leave and was eventually let in, he said. There, the debate wasn't as productive as he'd hoped.
"Every time I started making any comment that made the film look bad they'd say, 'That's enough,'" he said. "I was told they didn't want this to be a male-dominated space."
That's when Cavarno had had his idea for his campus debate. He was not an active member of Young Americans for Liberty prior to the event, but the campus group was willing to host it for him, and he has since started attending its meetings.
'Miscarriages of justice'
At his talk, he said that the event was not about proving that sexual violence does not exist, that there is an epidemic of false accusations, or that sexual assault is not a serious problem that needs to be taken seriously.
"It was a nuanced discussion on the proper way that I believe these allegations should be handled in order to guarantee basic fairness to both parties," he told The College Fix. "National surveys show that significantly more college students agree that the rate must be much lower than one in five. Furthermore, college students are basically split down the middle regarding whether these cases should be handled exclusively by police, or if schools should investigate as well."
His talk also delved into the fact that rapists deserve to be punished, "but no one deserves to be labeled a rapist or a predator without having a fair and proper opportunity to defend himself."
"Throughout history, universities have demonstrated over and over again that they are incapable of handling these cases objectively," he had said. "I agree that our criminal justice system needs to be reformed, but the solution to a broken system is not to devise an even worse system that is even more likely to yield miscarriages of justice."
He pointed out that in school proceedings, accused students have no right to a hearing at all, no right to legal counsel, no meaningful right to cross-examine witnesses or even ask follow up questions, no right to confront their accuser or the witnesses testifying against them, no right to thoroughly investigate the claims made against them, and no right to object to inflammatory information.
"The denial of all of these rights — coupled with the use of the incredibly low 'preponderance of the evidence' standard — denies accused students of a fair hearing," Cavarno had said, adding:
"I think Bernie Sanders put it best when he said: 'Rape and assault is rape and assault. Whether it takes place on campus or on a dark street. And if a student rapes a fellow student, that has got to be understood to be a very serious crime. It has got to get outside of the school and have a police investigation. And that has to take place. Too many schools are seeing this as 'well it's a student issue, let's deal with it.' I disagree with that. It is a crime and it has to be treated as a serious crime.'"
Like The College Fix on Facebook / Follow us on Twitter