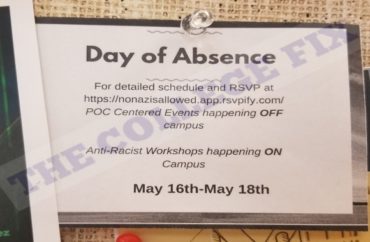 'In addition to POC centered events there will be antiracist workshops for white folks'
Students at the embattled Evergreen State College, which made national headlines last year after it hosted an event that asked white people not to come on campus for a "Day of Absence," have organized a new iteration of the controversial event despite administrators' efforts to shift gears.
Students at the Olympia, Washington-based public school have organized a three-day "Day of Absence" observance that includes a mix of events on and off campus. Some gatherings are advertised as open to all skin colors and others ask that only POC, or People of Color, attend.
A poster hung at the school obtained by The College Fix declares that the no-whites-allowed self-segregation events will be held off campus. It asks people to RSVP at a website that spells out "No Nazis Allowed" in its URL.
The events launch today and run through Friday, according to organizers, who are not interested in media coverage of their event, according to a Facebook screenshot obtained by The College Fix.
A spokesman for Evergreen State College did not respond to a phone call and email from The College Fix on Tuesday seeking comment.
The @EvergreenStCol students are putting on their own Day of Absence this year. Note they are self segregating now pic.twitter.com/NLPLtpGuLS

— Benjamin🛎Boyce (@BenjaminABoyce) April 26, 2018
The theme of this year's observance is "Deinstitutionalize/Decolonize."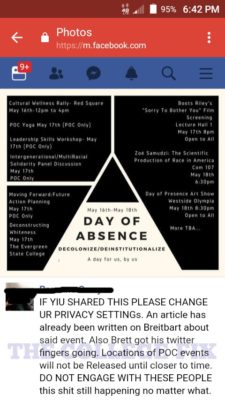 "The mission of this event is to bring POC together in order to create a reclamation of space and move forward into the future. In reaction to institution's consistent disregard for our safety, we are operating independently of the college. This is a day for us, by us," the RSVP page states.
"In addition to POC centered events there will be antiracist workshops for white folks and people who do not identify as POC. Please bring a dish or your own packed lunch and dishes! Potluck-style. No one who's intentions are to cause harm are allowed."
The college's annual "Day of Absence/Day of Presence" program has been observed for years, during which minority students would voluntarily stay off campus for a day and meet for specialized workshops. But for the first time last spring, the "Day of Absence" event reversed the usual pattern by asking whites to stay off campus for a day while racial minorities stayed on.
Following objections by a white biology professor, Bret Weinstein, students confronted him and campus police told Weinstein they couldn't protect him on campus. After that, his class met at a nearby park. The situation prompted national headlines and criticism.
MORE: Evergreen State upheaval felt like some sort of warzone
Earlier this year, officials announced they would revamp the controversial "Day of Absence" observance, instead offering an "equity symposium."
For his part, Weinstein has weighed in on this year's Day of Absence: "This is fascinating on many levels. The college canceled Day of Absence, so the students are going to do it."
This is fascinating on many levels. The college canceled Day of Absence, so the students are going to do it. Note the structure of their pyramid. https://t.co/AslwtFl8Un

— Bret Weinstein (@BretWeinstein) April 26, 2018
Last week, The Olympian reported that Evergreen State "will look to cut more than 10 percent from its operating budget for 2018-19 and raise student fees because of declining enrollment."
MORE: Evergreen State prof who called white peers 'motherf—ers' resigns
Like The College Fix on Facebook / Follow us on Twitter