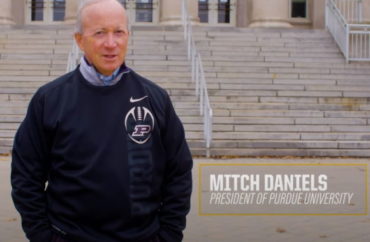 Won't answer questions about the costs, benefits
Purdue University wants to pay remote workers to live on campus – but only if they are from outside of Indiana.
It has even created a partnership with a former staffer for the university president who previously pulled his company's $40 million expansion in the state due to Indiana's religious freedom law.
The Big Ten university stated in a news release that its "first-of-its-kind program" will "[unite] the collaborative, invigorating energy of a campus with the flexibility of remote work."
The "Work at Purdue" initiative "invites and incentivizes remote workers to move to Discovery Park District at Purdue."
The program offers housing, a $1,000 dining credit and up to $4,000 in cash relocation stipends to workers who move from out of state. MakeMy Move, the company that administers the program, puts the total benefit to workers at $9,000, according to a listing on its website.
Purdue spokesperson Tim Doty did not respond to two emails sent in the past month that asked for further information. The College Fix asked how the university would benefit from the Work at Purdue program, the fees charged to enrollees, the motivation behind the initiative and the cost to taxpayers.
MakeMyMove, co-founded by former Angie's List CEO Bill Oesterle, will run the program. Oesterle led the corporate pressure campaign in 2015 to get Governor Mike Pence to water down the state's Religious Freedom Restoration Act law. Oesterle previously worked for current Purdue University president and former Indiana governor Mitch Daniels as his campaign manager.
CEO changes tune on whether workers should live in Indiana
Though his company now will help convince non-Hoosiers to move to Indiana, he previously canceled a $40 million expansion in Indianapolis due to his opposition to the state's religious freedom bill. Even though Pence signed an amended law, Angie's List did not restart its planned expansion and Oesterle left the company.
The state modeled its law after the bipartisan 1993 federal RFRA, co-sponsored by a spectrum of politicians including Chuck Schumer, Bernie Sanders and Newt Gingrich. The corporate community and LGBT activists said the bill could harm homosexuals by allowing Christian business owners to refuse to provide services, such as cakes or venues for same-sex unions.
"There was no repeal of RFRA and no end to discrimination of homosexuals in Indiana," Oesterle said in 2015.
RFRA laws only set the standard for courts when it comes to religious freedom violation claims and puts the burden on the government entity to prove why it can violate someone's religious liberty in "furtherance of a compelling government interest."
The Fix called MakeMyMove spokesperson Christie Hurst on Monday morning and sent an email through the company's contact form but did not receive a response.
The Fix asked how many people were expected to participate in the Purdue program, if the company gets paid by the university and if states must have weak religious freedom laws in order for MakeMyMove to do business there.
Purdue wants to model itself after Big Tech companies like Amazon and Google, according to the university's news release.
"Represented by brands like Amazon and Google, the modern corporate campus ensures that employees are never far from an inspiring change of scenery, invigorating workout or exciting lunch," Purdue stated. "The designs acknowledge that people can be their best when unified by shared goals and powered by collaboration."
MORE: Penn-linked program will give 'LGBTQIA older adults' free money
IMAGE: Purdue University/YouTube
Like The College Fix on Facebook / Follow us on Twitter