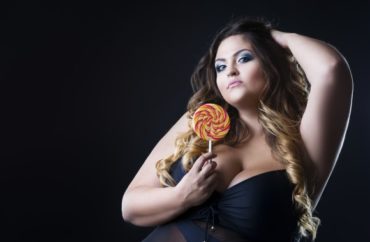 The normalization of plus sizes in this age of body positivity may actually be feeding the obesity epidemic, according to a new study published in the journal Obesity.
While the "Fat is Sexy!" trend has been met with praise by many, with calls for an end to fat shaming on campus, on the cover of magazines, and all over social media, the study's researcher warns that being overweight has health risks.
"While this type of body‐positive movement helps reduce stigmatization of larger‐sized bodies, it can potentially undermine the recognition of being overweight and its health consequences," states the author of the study, titled "Normalization of Plus Size and the Danger of Unseen Overweight and Obesity in England."
The study suggests that the increase in advertising of "plus-size" models is contributing to the obesity epidemic by normalizing the social stigma surrounding it. This comes at a time when body-positivity and size-acceptance are being pushed heavily by feminists and many left-leaning organizations, trends capitalized on by the retail and fashion industries.
"Seeing the huge potential of the fuller‐sized fashion market, plus‐size retailers may have indeed contributed to the normalization of stigma associated with overweight and obesity," writes Dr. Raya Muttarak from the University of East Anglia.
While the study "does not condemn obesity or say overweight people shouldn't be happy with themselves," it acts more as a "sobering wake-up call about the health consequences of excess weight, which increases the risks of diabetes, early mortality, heart disease, dementia, and cancer," reports the Inquisitr.
The study shows that the percentage of overweight people who underestimate their weight has increased from around 48 percent to 58 percent in males and 24 percent to 30 percent in females. Additionally, the study shows that 40.8 percent of overweight people are underestimating their weight and only 51.8 percent of them are trying to lose weight.
What's more, this normalization of plus sizes is eerily similar to the campaign that sought to normalize smoking, according to one scholar.
In a press release, George Washington University Public Interest Law Professor John Banzhaf made this correlation between the campaigns to destigmatize obesity and smoking. Banzhaf, often referred to as "Mr. Anti-Smoking," is one of the most renowned and successful anti-smoking legal activists in the nation.
"This new study suggests that the normalization of obesity — and especially by deliberately choosing to feature models who are obese ['plus size'] in magazines and in other ads — contributes to our current epidemic of obesity which costs the American economy about $150 billion a year; more than the total cost of Obamacare," Banzhaf told The College Fix via email.
Banzhaf, in a news release, said the study's results were "certainly consistent with what we learned in fighting against smoking."
"This new finding is consistent with the well established relationship between normalizing smoking and cigarette use. Showing healthy and happy young people in cigarette ads, as well as featuring people who were smoking in movies, tended to make normalize smoking and present it as socially acceptable. Fortunately we were able to fight this normalization with the nonsmokers' rights movement which led to smoking bans in many places," he said.
Asked by The College Fix whether he was concerned a peer might accuse him of fat shaming with his news release, he said he hoped not but "I would certainly not be surprised to receive such criticism, even though my release does not include any fat shaming, nor does it necessarily encourage it."
"Pointing out a study which suggests that, departing from long established custom by featuring models who are obese may, despite arguments for it, have adverse consequences, does by no stretch of the imagination constitute fat shaming, any more than a suggestion that the models should not be shown smoking necessarily constitutes smoker shaming," he added.
"In view of this I am merely suggesting that advertisers might wish to think twice between departing from the long-established custom of not featuring models who are obese in their ads if, as this study suggests, deliberately choosing to feature and glamorize obese models actually contributes to our current epidemic of obesity," Banzhaf said.
MORE: University event to tackle 'fatphobia,' 'fat-shaming'
IMAGE: Shutterstock
Like The College Fix on Facebook / Follow us on Twitter