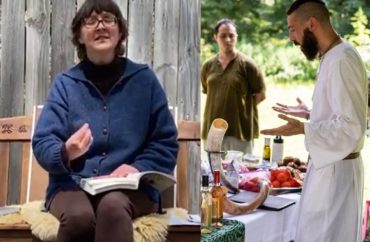 'White supremacy has surged,' according to university announcement
Students who want to know how they can bow down before pagan idols while also being an "anti-racist" will have the chance soon to learn how from a Norse "cultural healer" and "storyteller."
The University of Wisconsin-Green Bay will host Kari Tauring, a "Norse cultural healer and storyteller" and Ethan Stark, a "Troth Steward" on April 20.
"The Troth" is an organization that promotes "heathenry" and stewards "are volunteers who work to build community for heathens everywhere in conjunction with the Troth. They start by providing a presence and giving information to individuals who are interested in The Troth or in heathenry generally," according to the group's website.
Stark (pictured, right) is an "ordained and active clergy of The Troth" while Tauring (pictured, left) is a "Nordic folk musician, cultural educator, and spiritual leader."
The pair of heathens "will guide the group in ways to differentiate Nordic cultural and spiritual groups that are white supremacist from groups that are inclusive."
"The symbols of Norse culture such as Thor's hammer and runes, went through an era of misappropriation to represent ideologies that are inconsistent with Nordic root culture realities," the event description states. "White supremacy has surged again in our midst from the attacks on the Nation's Capitol to the purchase of a church in small town Minnesota. Learn some steps everyone can take to fight racism within Nordic root culture and the broader society."
A whites-only congregation that worships pagan gods bought a church in Murdock, Minnesota in 2020, according to NBC News. The "Asatru Folk Assembly" has been "granted a conditional use permit to open a church there and practice its pre-Christian religion that originated in northern Europe."
Administrators and diversity offices are involved with this event. "The event is sponsored by the Vice Chancellor's Office,[Multi-Ethnic Student Affairs] BIPOC RISE, and the History and Humanities programs," according to a university announcement.
MORE: Pagan club launched at Loyola University Chicago
IMAGES: Norway House; Hallowedrenewal.com
Like The College Fix on Facebook / Follow us on Twitter