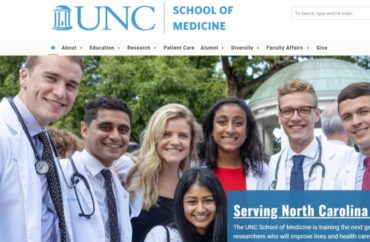 'UNC is continuing to deviate from its binding commitments to academic freedom,' FIRE wrote
The University of North Carolina at Chapel Hill School of Medicine continues to use some diversity, equity and inclusion recommendations from a School of Medicine task force despite a resolution approved by the University of North Carolina System Board of Governors prohibiting such policies.
That's according to the Foundation for Individual Rights and Expression, which wrote a letter to the School of Medicine last week asking its leaders to follow the policy, approved in February.
"UNC is continuing to deviate from its binding commitments to academic freedom by maintaining review, promotion, and tenure standards at the UNC School of Medicine that require faculty to demonstrate commitment to diversity, equity, and inclusion (DEI) and to 'integrate social justice' into their teaching, research, and service," the letter stated.
"In communications with UNC's legal counsel, FIRE was under the impression UNC intended to remove these ideology-based requirements for all faculty at the medical school," it added. "Because we have recently learned UNC's planned rescission applied only to one of the medical school's [DEI] components, we again call on UNC to eliminate or revise its unconstitutional mandate for all School of Medicine faculty."
The policy, approved by the Board of Governors on Feb. 23, states that universities in the system "shall neither solicit nor require an employee or applicant for academic admission or employment to affirmatively ascribe to or opine about beliefs, affiliations, ideals, or principles regarding matters of contemporary political debate or social action as a condition to admission, employment, or professional advancement."
"The UNC Board of Governors has directed that no institution in the system use compelled speech (particularly 'diversity' statements) in hiring and promotion," National Review reported Thursday.
FIRE Litigation Fellow Harrison Rosenthal told The College Fix the School of Medicine is only getting rid of the school of the Allied Health Sciences' task force findings.
"The School of Medicine is keeping some of its other DEI department policies, such as those related to hiring tenure and advancement," he said.
The Fix reached out to UNC media relations and the medical school's media relations department by email on June 5 and by phone on June 9 with questions regarding the task force and which recommendations had been discarded. Neither has responded.
DEI policies requiring employees of public institutions like UNC to profess particular ideologies are not only against system policy, they are unconstitutional, Rosenthal told The Fix.
"To the extent that UNC maintains its posture of only not implementing the Allied Health Sciences' DEI recommendations and allows DEI policies regarding hiring, tenure, and advancement to continue, FIRE will continue to advocate for First Amendment solutions," he said. "Both policies are problematic as long as they require faculty to pledge allegiance to a particular ideology."
Taskforce final report sought to integrate 'social justice' 
UNC's med school initially implemented a "Taskforce to Integrate Social Justice into the Curriculum" in October 2020. The task force was headed by Dr. E. Nathan Thomas III, vice dean for diversity, equity and inclusion, and Dr. Stephanie Brown, associate dean for Allied Health Sciences.
The task force's charges were to make social justice recommendations regarding the learning environment and faculty development, establish goals for integration of social justice into the medical school curriculum, specify the anti-racism components of the proposed curriculum, and expand the task force with new partners, according to the final report.
Taskforce recommendations for faculty development included DEI training, requiring faculty to complete reflection prompts, integrating social justice into annual reviews and incentive eligibility, social justice requirements for promotion, and evaluations of "applicant's growth mindset as it relates to social justice."
Thomas and Hooper did not respond to requests from The College Fix seeking comment.
A June 6 article in Inside Higher Ed stated multiple news outlets got it wrong when they reported in May that the med school had abandoned all its DEI protocols, but campus leaders refuse to say which ones they continue to use.
"In an email to Inside Higher Ed, a school spokesperson said, 'Most of the School of Medicine task force recommendations were not adopted.' But he didn't respond to multiple requests to specify which recommendations have been carried out," IHE reported.
Racial unity organization petitions med school to discard DEI policies
"The doctor that treats you should be the most qualified doctor available to you, not the doctor that has received the most amount of social justice training," according to a petition launched by the racial unity nonprofit Color Us United.
"Yet that's exactly what UNC Medical School is doing: replacing vital medical training courses with social justice courses and diminishing the quality of its doctors in the service of a false social justice agenda," it stated.
The Fix reached out to Color Us United with questions about how DEI recommendations affect healthcare. A Color Us United administrative assistant replied on June 6 with a statement from President Kenny Xu.
"The abandonment of the DEI task force, once we can confirm DEI programs are in fact eliminated, will increase the productivity of doctors and lead to a system where candidates are promoted by merit instead of by immutable characteristics," Xu said.
"It will result in better training for doctors who no longer have to learn about 'systemic racism' in medicine and can focus on improving their techniques," he said.
Xu added Americans "want the best-qualified doctor, not a doctor of a certain race."
"Furthermore, it does no good to accuse the medical system of being racist. Our campaign was successful because it spoke to people wanting to move on from race and focus on the characteristics that actually help people succeed – namely, merit."
MORE: Conservatives are self-censoring at University of North Carolina campuses: report
IMAGE: UNC website screenshot
Like The College Fix on Facebook / Follow us on Twitter