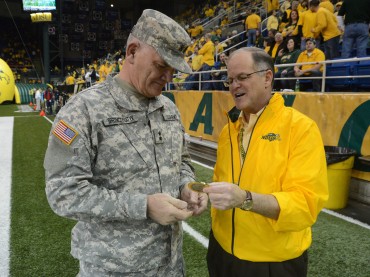 North Dakota State University in Fargo is the most recent example of the tension between public institutions' compliance with financial transparency rules and college presidents' burden to spearhead fundraising for their schools.
The university's excuses for why its development foundation isn't subject to public-disclosure rules fell flat for the state attorney general in a ruling last week.
Following an investigation prompted by a December article that detailed NDSU President Dean Bresciani's lavish spending to secure major donors, Attorney General Wayne Stenehjem said the foundation performs "governmental functions" for the school, so its finances can't be shielded.
Watchdog.org, a reporting project of the Franklin Center for Government and Public Integrity, had filed a "citizen's request for opinion" from Stenehjem's office after the NDSU Development Foundation rejected its open-records request for a year's worth of the NDSU Development Foundation's expenditures.
The reporting project was intrigued by The Forum of Fargo-Moorhead's December article, which said Bresciani went on "weekend hunting trips with Fargo business leaders and power brokers," gave "Bison football backers a chance to chat with coaches while sipping on expensive wine" at a post-Thanksgiving party at his home, took "big-ticket donors" to a Taylor Swift concert and even skipped a legal hearing to hunt quail with major donors.
These trips were largely paid for by the foundation, which gathered $17.2 million in 2012.
Stenehjem ruled in favor of Watchdog.org's complaint against NDSU, saying in an "open records and meetings opinion" the university failed to produce expenditure records as required by laws that ensure the finances of public institutions are not hidden.
It took the NDSU Development Foundation five months and "numerous interventions from this office" before NDSU released any expenditure reports, the opinion said. The reports that the foundation did produce were incomplete and did not meet the requirements of the law, it said.
The foundation cited several excuses why it could not comply with the request, all invalid, Stenehjem said.
Officials claimed that "most of our expenditures are non-public," the request "would be cost prohibitive and a strain on the personnel resources" of the foundation, and that some of its functions are not "governmental" in nature.
Though the foundation itself is not a public entity, Stenehjem said, it must comply with the same open-records laws as the university because it represents and manages finances on behalf of the university, which are "governmental functions."
Stretching FERPA Beyond Its Scope
One of the more interesting discussions concerns the scope of the Family Educational Rights and Privacy Act (FERPA), cited by the foundation to shield scholarship records from Watchdog.org.
The College Fix has previously noted that schools appear to be using FERPA more often to shield information unrelated to students' scholastic privacy. The law's own author has said it's incorrectly used for unrelated purposes.
Stenehjem's opinion called it "questionable" whether FERPA protects such records and said if the foundation has previously released information on scholarship recipients, "it cannot now claim an exemption." FERPA doesn't prohibit the release of a student's name, honors or awards because such information isn't considered "harmful or an invasion of privacy," the opinion said.
Jack McDonald, an attorney for the North Dakota Newspaper Association, told Watchdog.org the ruling against the foundation was "a big chink in the wall colleges and universities have built up to hide information by claiming it is made confidential by FERPA."
McDonald said Stenehjem's opinion was "the latest in a series of 4 or 5" holding that development foundations are public entities. "I think this is significant because they play an increasingly key role in the business of the state's colleges and universities, and with cities and counties."
College Fix contributor TJ Jan is a student at Seattle Pacific University.
Like The College Fix on Facebook / Follow us on Twitter
IMAGES: North Dakota National Guard/Flickr, Jimmy Emerson, DVM/Flickr