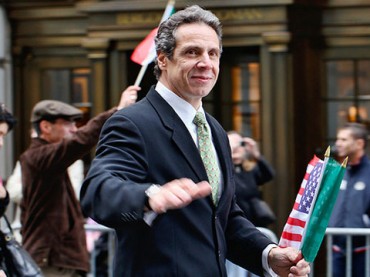 The former attorney general would have loved to give the jury his own instructions
New York and Connecticut are considering measures that would drastically tilt disciplinary proceedings against college students accused of rape.
Gov. Andrew Cuomo, a Democrat, wants to codify into New York law his earlier executive order that mandated the affirmative consent standard across State University of New York campuses.
His proposed 2016 budget, as described by the Senate Finance Committee's analysis, includes a "victim/survivor bill of rights" whose language presumes the guilt of anyone accused of "sexual violence."
It omits the words "alleged" or "allegation" in describing the claims of accusing students. The proposal requires that they be "free from any suggestion" that they are "at fault when these crimes and violations are committed" or "should have acted in a different manner" to avoid the alleged rape.
That language suggests that accused students have no way to defend themselves, Brooklyn College history professor KC Johnson wrote at Minding the Campus in a post analyzing Cuomo's proposal.
It would mean the accused couldn't claim that the accuser "actually consented" to intercourse or even "simply lied," said Johnson, co-author of a book on the Duke lacrosse rape case.
Required training to produce more guilty verdicts?
The proposal is also vague on what counts as "unambiguous" and "informed" consent or what the prohibited "passive consent" looks like, Johnson added. It's clear, however, in defining "incapacitation" as "impairment due to drugs or alcohol," a standard that would classify a "substantial plurality" of college sex as rape, he said.
By preventing "prior sexual history or past mental health history" from figuring into disciplinary proceedings, as the budget proposes, New York colleges would deny accused students "vital exculpatory evidence," Johnson said.
Such evidence has been used against accusers when they bring allegations: The University of Oregon did so when it was sued by a student who claimed the school mishandled her rape accusations against basketball players, as The College Fix reported last month.
Johnson asks what people would have thought if Cuomo, in his tenure as state attorney general, "had demanded that all jurors in rape trials receive special training that his office had prepared." Such a provision is in the budget when it comes to annual training for disciplinary panelists hearing rape allegations.
The Foundation for Individual Rights in Education piled on Johnson's analysis, noting that definitions for "informed" consent vary widely.
"Ohio State University, for example, requires both parties to 'agree regarding the who, what, where, when, why, and how this sexual activity will take place,'" wrote Susan Kruth, program officer in FIRE's Individual Rights Program. "The why?"
Time to look at 'the triple x version'
In Connecticut, lawmakers are airing concerns that similar legislation is too vague to give students notice of prohibited conduct.
CTNewsJunkie, which covers state news, reported that an affirmative consent bill approved by a joint legislative committee 14-3 on Tuesday didn't define some of its crucial terms.
Though all committee Democrats voted for the bill, some of them expressed reservations.
Rep. Juan Candelaria noted the bill didn't define "sexual activity," asking committee co-chair Dante Bartolomeo for "the triple x version" of the bill so he could understand the ramifications for colleges in the state.
Noting the possibility that an accuser could give a affirmative consent nonverbally to a partner and then, after the relationship ends, accuse the partner of rape in retaliation, Rep. Douglas McCrory said that "a smile and a wink is not a smile and a wink anymore."
Sen. Mae Flexer said that consent in sex was no different than "expressing one's preference for anything else in life — including, but not limited to, coffee, tea, and frozen yogurt," in CTNewsJunkie's paraphrase.
Committee leaders promised to address concerns in definitions as the bill moves to the full Senate.
Greg Piper is an assistant editor at The College Fix. (@GregPiper)
Like The College Fix on Facebook / Follow us on Twitter
IMAGE: saebaryo/Flickr, Biersaufer/Wikimedia Commons, CT Senate Democrats/Flickr
Like The College Fix on Facebook / Follow us on Twitter