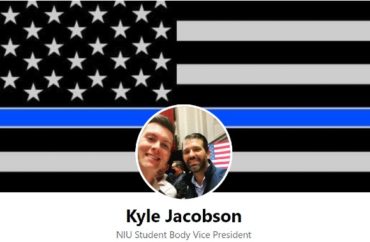 'I have no one to apologize to,' the leader said
A student senator at Northern Illinois University wants to remove the vice president of the student government because of his conservative beliefs and activism.
Kyle Jacobson, the Student Government Association vice president at the public university, has found himself the target of a removal attempt by senator Samantha Gurrola because Jacobson helped start a Turning Point USA group on campus.
Jacobson's Facebook page also shows support for the "Blue Lives Matter" movement, which shows support for law enforcement.
"It comes across that these behaviors are encouraged and accepted," Gurrola told The College Fix via Facebook messaging. "I understand why the general body feels the way that they do regarding this matter and empathize with them."
Gurrola spoke in favor of Jacobson's removal at an October 18 student government meeting, according to the student paper the North Star. Gurrola told The Fix that there is a pending resolution to remove Jacobson, but did not provide a copy of the resolution nor explain the next steps for moving forward on the resolution.
The former president of the student government, Naomi Bolden, criticized Jacobson as being insensitive toward African-Americans.
"NIU is home to many types of community members – multicultural, LGBTQ+, conservative, liberal, religious," Bolden said, according to the student paper. She said "his ignorance and unwillingness to educate himself on people and communities different from him affect his ability to do his job efficiently and without personal bias."
Bolden told The Fix she would provide a comment but did not respond any further as of Wednesday.
MORE: Court reinstates student government leader removed for Catholic beliefs
Jacobson, however, has no plans to resign. He told The Fix that he no longer runs the TPUSA group, which is not even officially approved as a campus organization.
He told The Fix via email that he "stepped down from the role to avoid conflict of interest with my SGA role, and to let other students have the experience of leading the Turning Point USA group."
"NIU has chosen to make the issue of supporting police officers political," Jacobson told The Fix. "And I refuse to make supporting police officers a political/partisan issue."
He referenced a training hosted by the university that compared support for the Blue Lives Matter movement to "anti-blackness." The school mandated the diversity training for some students.
Jacobson told The Fix that he believes that one of the things that makes America such a great country is because it is a mix of different backgrounds and perspectives, but he fears that some views are being silenced by NIU. 
He is especially concerned with how conservative values are viewed as something to be feared and shunned at the school he attends.
"Students have chosen to make me out to be someone I am not for my support of police, and the university continues to undermine first responder advocates, and conservative voices on the campus," Jacobson wrote to The Fix.
"I have no one to apologize to," Jacobson said.
He has "no plans on letting any backlash from my political views, which remain separate from my NIU SGA role, deter me from helping all of the students that elected me and who I represent at my school."
Jacobson did not respond to a request for a copy of the resolution or a timeline on the resolution.
Jacobson reiterated the conservative group's goals in an interview with the school's paper.
"We work to identify, empower and organize other activists at our school so that our movement is consistently growing," Jacobson told the Star.
"That's basically why I just wanted to bring it to NIU because NIU definitely needed something like this right now, needed the voice of strong conservative students to be activists as recognition of free markets and limited government," Jacobson said.
MORE: UC Berkeley student government accuses Pepsi of 'violence' against minorities
IMAGE: Kyle Jacobson/Facebook
Like The College Fix on Facebook / Follow us on Twitter