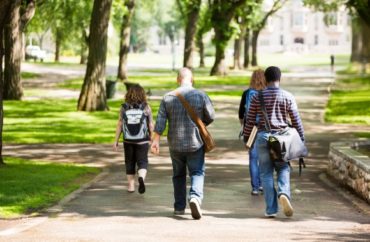 University faces delay of classroom teaching due to slow lab results, officials say
After welcoming students back to campus last week, complete with face masks and plenty of "excitement" as they prepared to engage in on-campus, face-to-face learning, Northern Michigan University has now pushed back in-class learning due to delayed COVID test results.
Students were expected to return to the classroom for the first day of school, August 17, but will instead start classes online August 18 as recommended by the Marquette County Health Department, a local Fox affiliate reports.
The school is COVID testing all students, staff and faculty returning to campus and has contracted a lab to provide results.
Derek Hall, a spokesman for the university, told the news outlet the lab was supposed to provide the results in 24 to 48 hours, but has been unable to do so. Of the 7,300 tests conducted thus far, only 3,800 tests have been returned with results.
The delay stands in contrast to the celebratory announcement the university released August 6 to note its students would be welcomed to return for in-class schooling. But campus leaders insist it's just a bump in the road.
"We will follow the advice of the county health department, but I want to emphasize that we are only going to do remote instruction until the test results are in, then we will go to the face-to-face in-person instruction we promised. Based on the rate of return now, that should be no longer than the first four days of classes," NMU President Fritz Erickson told FOX 6.
The Northern Michigan Board of Trustees in late April "was one of the first boards in the country to pass a resolution saying NMU would open with in-person, face-to-face classes in the Fall of 2020," the Aug. 6 news release from the university had stated.
"Since then, President Fritz Erickson has assembled 12 COVID-19 task forces to assure the re-opening will be as safe as possible."
The campus had some 11 committees working this summer to work out the logistics.
Hall told The College Fix the effort was borne out of a desire to do what's best for students.
"Last spring it was hard," Hall said in a telephone interview last week, before the delay was announced.
"The end of March we went online and it was really difficult to teach class online and make it work," he said. "But this time going into it we know what to expect and we know what's going to happen. It's not going to be a sudden change. We can plan ahead."
The university's $2.5 million health and safety plan includes testing, tracing, masks, and social distancing for faculty, students, employees and visitors, officials have stated.
Hall told The Fix fall 2020 attendance numbers are better than expected, with just under 8,000 students. The past average student population was about 7,600, according to its website.
𝐖𝐄𝐋𝐂𝐎𝐌𝐄 𝐁𝐀𝐂𝐊, 𝐖𝐈𝐋𝐃𝐂𝐀𝐓𝐒! pic.twitter.com/1pptP0WcbV

— Northern Michigan University (@NorthernMichU) August 14, 2020
Upon their return last week, students were tested for COVID, and the school set aside a residence hall building for quarantine should it be needed this semester. Hall said last week there have only been six cases of COVID-19 at the school, but none of them were for residential students — all were online or commuters.
The school is leaving the handling of classes up to faculty discretion.
Hall, who will be teaching "Intro to Public Relations" this semester, said he will teach mostly in person, but has some students working virtually. Many of the classes, Hall said, will be a hybrid of meeting partially online and partially in person.
The students have handled the return very well, Hall said.
"It is great to have life back on campus," Hall said. "It was a weird summer having this place abandoned. Just to see students here and they're cooperating, they're wearing their masks. I see a lot of groups outside eating their food on the lawn and it just feels good."
MORE: This NY university just showed a positive coronavirus rate of less than 1%
IMAGE: Tyler Olson / Shutterstock
Like The College Fix on Facebook / Follow us on Twitter