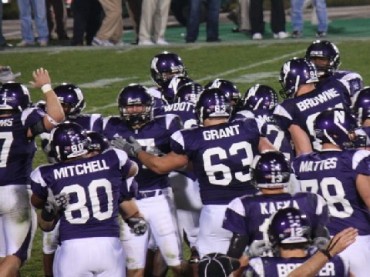 The insanity of Obamacare was on full display this weekend over the news that, under the Affordable Care Act, Northwestern University's football team, once unionized, would receive maternity coverage through its mandated federal health insurance.
"Northwestern University became the first school in the nation to deem its football players full-time employees, thus making them eligible for union representation and health insurance benefits including maternity coverage," Rare reported.  "The kicker is that under Obamacare, the Evanston, Ill.-based team, comprised of more than 50 'employees,' is considered a 'large employer' and Northwestern must provide pregnancy-related health care for the all-male team."
The ridiculousness of the situation was highlighted by Republican Ben Sasse, a leading critic of Obamacare and candidate for U.S. Senate in Nebraska.
In a YouTube video titled "Pregnant Football Players," Sasse pointed out the National Relations Labor Board is appointed by President Barack Obama – and they're the same folks who recently decided college football players at Northwestern are the equivalent of full-time employees and can form a labor union.
"Due to Obamacare, college athletics departments must provide maternity coverage to 18-year-old boys," said Sasse, president of Midland University. "This is insane."
One news outlet that reported the development was Hot Air, which opined: "Of course, we probably should have anticipated that things like this would begin cropping up the moment we decided to take college students and transfer their status to that of employee because the college might be profiting from their activities."
And Weasel Zippers quipped: "Since they are now 'employees' won't they have to declare their scholarships on their income tax returns? Something tells me they are going to regret their decision to unionize."
Jennifer Kabbany is associate editor of The College Fix.
Like The College Fix on Facebook / Follow us on Twitter
IMAGE: Davey83/Flickr