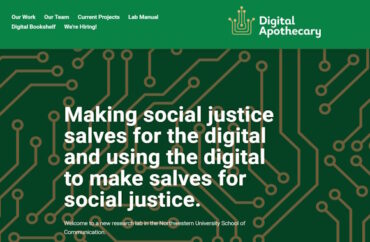 Capitalist, 'military-derived technology' enables 'violence,' professor says
A Northwestern University project is described as envisioning an "ethical internet" where capitalism is gone and "communes" work to create "sustainable and non-exploitative" infrastructures.
Led by communication studies Professor Moya Bailey, a self-described black queer disabled woman, the "Ethical Internet?" project is part of the Illinois university's Digital Apothecary lab.
Bailey, the author of "Misogynoir Transformed: Black Women's Digital Resistance," is scheduled to speak at a Gender Studies Symposium in March at Lewis and Clark College in Portland.
The topic is "Being Online," and speakers will discuss how the internet has become "a space for finding safety, building community, and forging feminist and LGBTQ+ resistance" and how it facilitates "violence, abuse, and harassment" against marginalized groups.
Bailey told Northwestern Magazine in a Fall 2023 feature that one of the goals of the Digital Apothecary lab "is to fight against misogynoir" on the internet "by looking at how different platforms deal with issues of accessibility or racism."
The lab, which began about two years ago, is "dedicated to combining ancient and new technologies in an effort to produce processes and projects that aid those most marginalized in society," according to its website.
Bailey said the internet is ethically problematic, in part, because it is capitalist, "military-derived technology" that enables "violence" around the world.
"Can this military-derived, exploitatively built, capitalistically driven, entity of the internet be reconfigured from the ground up in a way that doesn't exploit human or natural resources? Can the internet be just?" she wrote in 2022 at Just Tech.
The lab, which employs Bailey and 11 student "research alchemists," lists "Ethical Internet?" as a current project but does not mention details about researchers' work or progress; the website only links to the 2022 column.
The College Fix contacted Bailey and the lab twice over the last month, asking for more details and updates on the project, but did not receive a response.
The Fix asked the lab, Bailey and the Northwestern media relations office how the lab and project are funded. None have responded to requests for comment.
In her column, Bailey said ethical issues with the internet – including child labor, environmental problems and capitalism – "literally" keep her up at night.
"While there can be no ethical engagement with the internet under capitalism, I do think there is a less harmful path for our web wandering to take, one that my students and I will begin to explore in the classroom in the winter of 2022," she wrote.
While admitting her ideal internet likely will never happen, Bailey stated that she envisioned servers being built on "communes" with ethically-sourced minerals and water to cool them, along with a community of "server farmers" to service them and grow food. All this would be housed on land with the consent of "the traditional stewards of the region," she wrote.
"We move at the speed of trust, and the speed of our circadian rhythm, remaining conscious of the pace at which we want our lives to proceed," Bailey wrote. "… Kids learn to code as they learn to plant. We learn how to solder our servers, creating the technology we need at a sustainable pace. We eat well and have digital dance parties."
The Digital Apothecary lab frequently mentions racial and gender issues on its website.
Listed on one page is a "Glossary of Terms" that includes "misogynoir," a word that Bailey created to describe "the uniquely co-constitutive racialized and sexist violence that befalls Black women as a result of their simultaneous and interlocking oppression at the intersection of racial and gender marginalization."
Bailey, in her interview with Northwestern Magazine, said one student researcher is examining the factors that make a TikTok video go viral.
"Are videos that have hate speech perhaps more viral than others? I'm really curious to see how this research might impact the design of these platforms, to better address misogynoir and other societal issues as they come up in these digital spaces," she said.
The lab also has a "Values and Principles" page that highlights "Slow Work," or working "through the ethics of pace. This means engaging in sustainable work routines, limiting lab waste, and practicing mindfulness."
In a February interview with BAR Book Forum, Bailey said "the ethics of pace" is a way to think through "how I had internalized ableist expectations of my productivity."
The lab recently received funding from Labs for Liberation through the Mellon Foundation to hire a postdoctoral scholar to research and develop curriculum on "critical disability studies" and "Black studies," according to its website. The position pays $66,764 plus benefits.
MORE: Stanford, Georgetown team up on 'governance' of the Internet
IMAGE: Northwestern University screenshot
Like The College Fix on Facebook / Follow us on Twitter