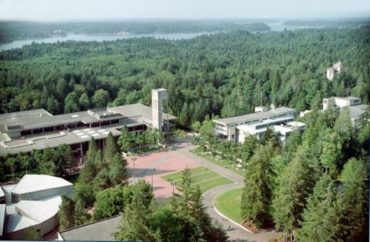 The madness at Evergreen was likely only the beginning
Bret Weinstein, the professor who was made unwillingly famous at the end of last school year when a mob of unhinged college students targeted him for a kind of insane social justice denouncement, is suing his employer, Evergreen State College, for nearly four million dollars. As we have said here before, The College Fix takes no stance one way or the other on university personnel issues, and this is no exception—but we would be lying if we said that Weinstein's case doesn't seem at least a little justified, given that Evergreen State essentially betrayed Weinstein to the student mob, kowtowing to its irrational demands while Weinstein fled the campus for literal fear of his safety.
A new school year will be starting soon, and with it will doubtlessly come fresh outrages and offenses and continued low-grade idiocy: the protests, the anti-white racism, the anti-male sexism, the endless parade of students who feel "unsafe" because somebody, somewhere voiced a mildly dissenting opinion about an unimportant topic. It will surely be a wild ride, as it always is. But we should not forget what happened at Evergreen State College. It should be a lesson to us all, in perpetuity.
The Evergreen madness, after all, was not simply another doofy campus dust-up; it was not even comparable to, say, the bonkers campus groundswell at St. Olaf earlier this year, which was alarming but still arguably within the realm of campus craziness as we've come to know it. The Evergreen case was something of a special one: Weinstein was targeted for his (uncontroversial and defensible) viewpoint, his students literally formed a mob to rail against him, he was forced to leave campus, the school president bowed to the demands of the mob, and Weinstein's own faculty members turned against him, demanding the school pursue a "disciplinary investigation" against him for the high crime of speaking his mind.
We would be wrong to think that this was simply a one-off, a kind of freak flare-up at a relatively unknown school in the Pacific Northwest. You can be certain that student activists on campuses across the country have taken note of this style of engagement. Will this kind of behavior happen at every college in the United States? No—not yet, anyway. But surely there is a good chance it will happen at many of them in the months and years to come. And why shouldn't it? Social justice warrior students will have taken the appropriate lesson from Evergreen State: this kind of activism, when done right, can get results.
If there is hope to stopping this stupid madness, it lays with college administrators and staff, and also, as economist and columnist Walter Williams has pointed out, with college trustees—with the people, in short, who are charged with maintaining a measure of order and rationality on campus. If student activists look to Evergreen as a roadmap, chancellors and presidents should look to it as a warning: don't bow before the vengeful and illogical mobs. Stand up for the professors and the students on your campuses who have done nothing wrong. If necessary, sanction the students who have threatened or assaulted members of your campus community. In short, be grown-ups. It's what you're paid to be.
Evergreen State was, sadly, likely only the beginning of a new chapter of campus madness. Where that chapter ends is an open question, and a deeply concerning one at that.
MORE: New Evergreen State professor stands against insanity, urges faculty to 'walk toward the fire'
MORE: Recently unveiled documents reveal anarchist strand festered at Evergreen for nearly a decade
Like The College Fix on Facebook / Follow us on Twitter