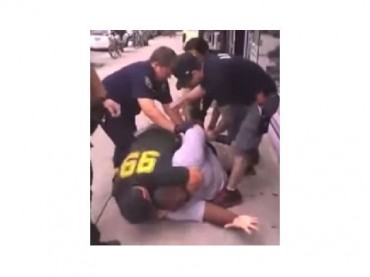 A prominent George Washington University law professor has come out in defense of the decision not to indict NYPD officer Daniel Pantaleo in the chokehold death of Eric Garner, saying the chokehold cannot be legally defined as "reckless" as a law-enforcement tactic, nor can it be proven that the chokehold caused Garner's death.
"[W]hile many might see today's decision as just another outrage following the events in Ferguson, and hold it up as proof that even cop-cams might not be effective, there arguably are legal reasons why the grand jury may have refused to indict this cop for homicide," said public interest law professor John Banzhaf in a statement provided to The College Fix.
The 43-year-old Garner was approached by police in July for selling loose cigarettes on the street in an encounter captured on video. He was put in a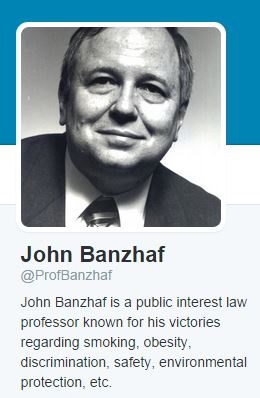 chokehold by Officer Pantaleo, a maneuver that led to the suspect's death. Pantaleo testified he did not mean to choke Garner, and said he saw his actions as more of a wrestling move, never thinking Garner was in mortal danger, The New York Times reports.
Banzhaf said to convict the officer of the easiest charge to prove, second-degree manslaughter, it would have to be proven the officer acted "recklessly."
"While some choke holds can cause death, such results apparently are somewhat rare, and seem to occur primarily when using the bar-arm hold or the carotid hold, neither of which appears from the video to have been used here," Banzhaf stated.
"It would be difficult to prove – especially to prove beyond a reasonable doubt – that any tactic or maneuver still in use by many police departments falls within the narrow category of 'reckless' behavior," he added, citing tasers and the PIT maneuver as other tactics that cause deaths but are still in wide use by law enforcement, therefore not necessarily "reckless."
Banzhaf also noted that Garner's medical conditions – acute and chronic asthma, obesity, and hypersensitive cardiovascular disease – were "contributing factors," according to the medical examiner. Banzhaf said it would be difficult to "isolate the effect" of the police chokehold as a cause of death beyond a reasonable doubt.
Banzhaf, who has successfully lobbied the Federal Communications Commission in the past to force diversity regulations upon broadcasters and is also the professor behind a petition before the FCC to ban the term Redskins from on-air broadcasts by having it deemed obscenity, frequently weighs in on issues of national debate.
But not all law professors agree about the grand jury's decision, and the Justice Department announced Wednesday it would open a federal civil rights
inquiry into Garner's death.
Some legal experts disagree with Banzhaf, and say that the prosecutor in the case, Daniel Donovan, Jr., likely prompted the non-indictment.
"There is no question that a grand jury will do precisely what the prosecutor wants, virtually 100% of the time," James Cohen, a law professor at Fordham University,
told
Gothamist
. "The video showed that the officer engaged in a long-prohibited conduct, a chokehold, and it doesn't seem to make any difference to the jury. And that's because the prosecutor decided that there should be no indictment for any criminal behavior." Another law professor, Randolph McLaughlin of Pace University,
told
Gothamist
that "the grand jury is a tool of the prosecutor," and added that the chokehold was, in fact, "reckless."
Meanwhile, President Obama, speaking Wednesday at the Tribal Nations Conference in Washington, D.C., urged productive relationships between law enforcement and minorities.
"We are not going to let up until we see a strengthening of the trust and strengthening of the accountability that exists between our communities and our law enforcement," Obama said.
College Fix reporter Andrew Desiderio is a student at The George Washington University. 
Like The College Fix on Facebook / Follow us on Twitter
IMAGES: social media screenshots
Like The College Fix on Facebook / Follow us on Twitter