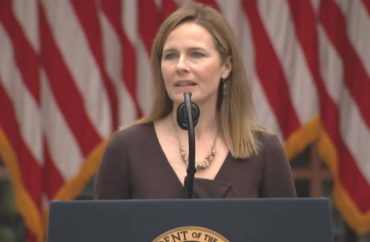 Judge Amy Coney Barrett is an alumna and a current professor at the University of Notre Dame Law School, but students, faculty members, and alumni of the university are divided over her nomination to the Supreme Court.
Barrett's kindness, generosity, and excellent teaching are known throughout Notre Dame, and acknowledged even by those ideologically opposed to her. When she was nominated to the Court of Appeals, colleagues of opposing ideological persuasions signed a letter supporting her nomination.
Even those totally opposed to her nomination to the Supreme Court acknowledge her impeccable personal traits.
Julie Gunnigle, a 2006 graduate of Notre Dame Law School, said in a now-viral tweet: "While [Barrett] had a reputation for collegiality and excellence in the classroom, the biggest lesson she taught me was that a person could be kind and civil while embracing an ideology that regards some individuals worthy of fewer rights and less freedom."
Many liberal Notre Dame students are upset that the Rev. John Jenkins, the president of Notre Dame, and Marcus Cole, the dean of the law school, traveled to the White House for the announcement of Barrett's nomination.
Liberal students said they viewed this show of official university support for Barrett's nomination as offensive to their personal rights because they believe Barrett wants to reverse Obergefell and Roe v. Wade.
Jenkins and Cole also made public statements in support of Barrett's nomination, reflecting the boost in reputation Notre Dame Law School's will surely receive if Barrett, an exemplar of the law school's vision of a Catholic lawyer, is confirmed. No Notre Dame graduate has ever served on the Supreme Court.
"The same impressive intellect, character and temperament that made Judge Barrett a successful nominee for the U.S. Court of Appeals," Jenkins said, "will serve her and the nation equally well as a Justice of the Supreme Court."
Irish 4 Reproductive Health, a group of pro-choice feminists at Notre Dame, responded with a statement criticizing the Notre Dame administration's support for Barrett.
"To laud the selection of Judge Barrett to replace the late Ruth Bader Ginsburg is to cheer for basic freedoms being stripped from vulnerable people in the near future," the group said.
"It's shameful," they added, "that our university continues to benefit from and legitimize this proto-fascist administration by directly cooperating with its efforts to deny bodily autonomy to people who can become pregnant."
Other Notre Dame students also criticized Barrett's nomination to the Supreme Court.
Peter Conway, a freshman at Notre Dame, told The College Fix that he has talked to Notre Dame students who questioned Barrett's qualifications to serve on the Supreme Court on account of her faith and her membership in People of Praise, a charismatic Christian group.
"I think attacking her for her faith and family life crosses a line," Conway said.
"That [Notre Dame students] are reacting in this way," he said, "makes me question what they were expecting from a Catholic university and why they chose to attend one given the multitude of other options."
Conway added that he has heard Notre Dame students make references to Margaret Atwood's novel "The Handmaid's Tale" in order to characterize Barrett as regressive. Last week, Newsweek inaccurately reported that People of Praise inspired "The Handmaid's Tale."
Notre Dame's College Democrats similarly responded with hostility to Barrett's nomination.
"Barrett has a bad track record when it comes to the rights of women, BIPOC, and LGBTQ+ people," they said in a statement on Instagram.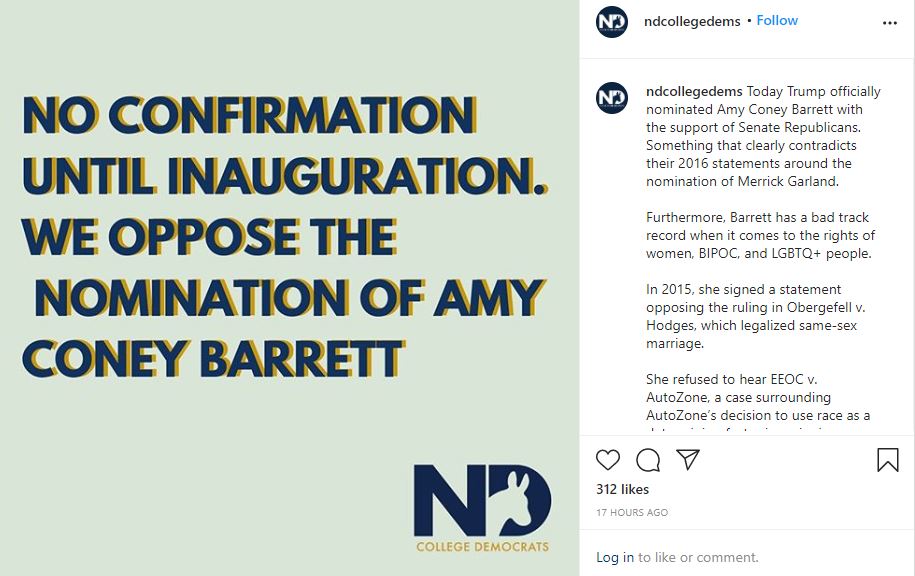 Many Notre Dame students, however, were happy to see a professor from their university nominated to the Supreme Court.
Brennan Buhr, a first-year law student at Notre Dame, told The College Fix that he believes Barrett's nomination will benefit Notre Dame's status "as a great institution in American law and political life."
"Judge Barrett," he said, "is a preeminent witness to Father Hesburgh's hope that Notre Dame would produce great Catholic leaders to redeem the time."
Notre Dame junior Maggie Garnett, whose parents are professors at Notre Dame Law School and close friends of the Barrett family, penned an op-ed for Fox News in which she described Barrett as "an inspiration to me and undoubtedly to many others like me."
"I know her faith is not cause for concern, but rather one for inspiration," Garnett said. "It has certainly inspired me."
MORE: Barrett draws notice for making it easier to sue colleges for anti-male bias 
IMAGE: YouTube screenshot
Like The College Fix on Facebook / Follow us on Twitter