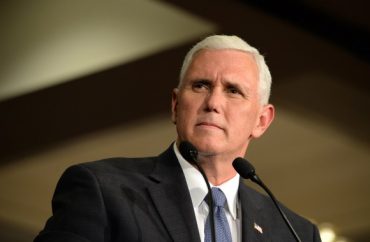 A collection of recent Notre Dame graduates plan to protest Vice President Mike Pence's appearance at commencement this Sunday by "standing up and walking out of the ceremony."
The decision appears to confirm the expressed plans of assorted students upon hearing that Pence would be delivering the graduation speech.
Other protesters near campus plan on joining in.
The South Bend Tribune reports that the walkout, organized by a "collection of student activist groups" dubbed "We StaND For," may also include graduate family members and friends.
"We welcome anyone who wants to walk out with us," said organizer Bryan Ricketts, a 2017 graduate. "We want to make it a graduation that's respectful of the students."
The protesters say the demonstration is more about Pence's policies during his tenure as Indiana governor than being Donald Trump's veep — policies that allegedly "targeted" the LGBT community, immigrants, and refugees.
Ricketts said Wednesday that he expects at least 50 to 100 graduating students to participate in the walkout. The effort is being organized via a Facebook page and students are using the hashtag #WalkOutND. …

In 2015, as Indiana's governor, Pence signed into law a "religious freedom" bill that would have allowed businesses and individuals to refuse services to LGBT people. After pressure from the business community and LGBT advocates, Pence signed into law a fix to the measure.

That same year, Pence ordered state agencies to halt resettlement for Syrian refugees after terrorist attacks in Europe. In response, Notre Dame President the Rev. John I. Jenkins issued a statement urging Americans to welcome Syrian refugees, noting they were being forced to flee their homeland because of unending violence.

Ricketts said some also may walk out in protest of Pence's support for President Donald Trump's health care bill.

University officials don't plan to stop the walkout. The student organizers have contacted Notre Dame Security Police to make them aware of their plans, and said they will leave quietly.

"We would intervene in any protest only if the ceremony was seriously disrupted or anyone's safety was put at risk," Notre Dame spokesman Paul Browne said Wednesday via email. "We expect neither."
Demonstrators from We Go High! of St. Joseph County, Michiana Alliance for Democracy, South Bend Equality, and Planned Parenthood Community Action Partners of Northwestern Indiana are among those aiming to show solidarity with the graduates.
April Lidinsky of the Planned Parenthood group (she's also a professor at Indiana University South Bend in Women's & Gender Studies — surprise that), says the rally will be an "'unwelcome home' celebration for the former governor."
MORE: Many Notre Dame students voice dismay at Mike Pence as commencement speaker
MORE: Profs ponder a Pence presidency — and it's about what you'd expect
Like The College Fix on Facebook / Follow us on Twitter
IMAGE: Shutterstock