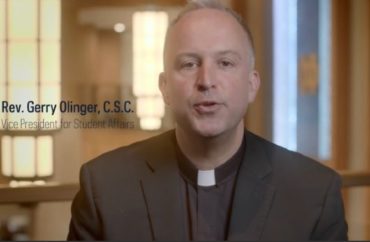 Video appears to encourage behaviors at odds with Catholic Church teaching
A recent video from a Catholic priest and University of Notre Dame administrator raised concern among alumni who question if the university is upholding the faith teachings of the Catholic Church.
According to the Catholic Church's teachings, homosexual relationships are not morally permissible. People with homosexual inclinations are called to a life of celibacy and chastity, while those that suffer from gender dysphoria should be supported and live in their sex. Individuals cannot change genders, according to the Catholic Church.
In addition, as pointed out by The Irish Rover, the university's own policy quotes the Catechism of the Catholic Church. "Homosexual persons are called to chastity" and to "friendship," and should cultivate "the virtues of self‐mastery that teach them inner freedom."
The video from Vice President of Student Affairs Gerry Olinger, a Catholic priest, tells viewers to practice "inclusion" toward people no matter their "sexual orientation" or "gender identity." The Sycamore Trust, a group of alumni who "are concerned about preserving the Catholic identity of the University," posted the videos on its website.
"Precisely because of Christ's calling to treat others as we desire to be treated others, this mission and the Catholic Church's teaching, is at the heart of how we as a university approach diversity on our campus," Olinger (pictured) said in the video.
This approach extends to "differences in sexual orientation and gender identity."
Another video, part of the same series, shows a bisexual female student who talks about her sexual interests. She said she wants students to "treat [her homosexual relationship] like it's no big deal."
"I just want to exist and have a healthy and fun relationship, just like everyone else here at Notre Dame, straight or otherwise," the student said in the video.
The College Fix reached out to Olinger's staff multiple times in the past two weeks but did not receive a response to questions about the specific ideas Olinger wants to see in action.
The Fix could not directly contact Olinger, but emailed his office assistants Ginger Chrapliwy, Chris O'Brien and Mary LaViolette three times within the past week and a half.
The Fix asked Olinger if he believes in the Catholic Church's teaching that there are only two sexes, male and female, and that those are unchangeable and if he believed Christ's calling to treat others as we desire to be treated, the Golden Rule, meant affirming someone's declared gender identity and/or their disordered sexual interests.
Finally The Fix asked if students with homosexual inclinations should be counseled and if it is morally permissible to engage in homosexual acts.
Media team members Dennis Brown, Sue Ryan and Carrie Jantzen did not respond to similar questions from The Fix.
Catholic priest, alumni leader want clarity
The Sycamore Trust told The College Fix via email that it wants clarity from the university.
"Notre Dame professes to parents, students, and donors [to] be a Catholic university and it holds itself out as responsible for the moral formation of its students," Bill Dempsey, the president of the group, told The Fix. "If it contradicts Church teaching on such important moral issues as sex, gender, and marriage in instructing students, it is guilty of false representation and scandal."
Dempsey hopes that Olinger will clarify his statements and "respond to the questions put to him by the Irish Rover about the clash between the video and Church teaching."
He also helps Olinger will "tell first year students, in a statement open to the public, that he regretted that the video seemed to contradict Church teaching on gender and sex, that the University adheres to that teaching, and that the Church teaches sex and gender cannot be separated and same-sex sexual relations are gravely sinful, and why."
A North Carolina priest who wrote a book about how Catholics should approach issues including abortion, homosexuality and transgenderism, said that Notre Dame must live up to its Catholic identity.
"As Christian[s], we should approach those with gender dysphoria and homosexual tendencies with honesty and compassion," Jeffrey Kirby told The Fix. We need to help the person with gender dysphoria to understand that such a condition is a mental illness which needs to be addressed in a healthy and holistic way."
"Catholic universities need to be Catholic," Kirby told The Fix. Kirby references Pope Saint John Paul II's document "Ex Corde Ecclesiae" which stated the "expectations of Catholic Universities."
"The standard is clear. If a Catholic university is at odds with the life and teachings of the Church, they are to be reformed and led to greater fidelity by Church leadership," Kirby told The College Fix. If not, then in serious cases the university must be stripped of its "Catholic" name.
Kirby also said that, "it is an offense to justice for a Catholic young person, or their parents, to go to a Catholic university and not receive an authentic presentation of the Church's life and teachings."
"They [Catholic Universities] were built to educate and form leaders within the Catholic faith," he said. "For a young person to go to a Catholic university and not receive such an education and formation is a great loss and an affront to justice and true charity to the students, their parents, and to our forebears."
MORE: Students cry because Catholic chaplain opposed LGBT flag
IMAGE: University of Notre Dame
Like The College Fix on Facebook / Follow us on Twitter