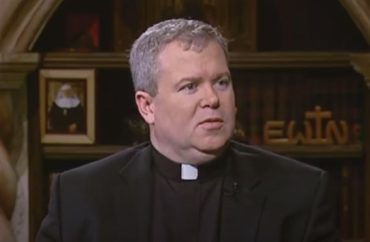 'There is no room for compromise or passivity'
A Catholic priest and instructor at Belmont Abbey College recently shared advice with The College Fix for how students, particularly those at Catholic universities, can share the truth about gender, the sanctity of life and human sexuality.
"In response to the trends of our world, Catholic students are called to know their faith, live the faith in their own lives, and then firmly and charitably share and defend the faith," Jeffrey Kirby, a South Carolina priest, told The Fix.
Kirby (pictured) recently wrote a book called "Sanctify Them in Truth," a copy of which his publisher TAN Books shared with The Fix.
When asked how to respond to incidents of scandal, such as drag shows at Catholic universities or rainbow "Pride" flags on campus, Kirby encouraged students to "work tirelessly" for the truth.
He told The Fix:
Catholic students are called to work tirelessly to present and persuade others to understand the goodness and beauty of life, the natural complementarity between man and woman, and the sacredness of the nuptial friendship of one man and one woman for life. We live in an age that leaves no room for a passive Christian. Everyone is summoned to the task of sharing and teaching the truths of life to all men and women. Divine wisdom and historical experience teach us that evil will triumph when good people do nothing. Evil particularly triumphs when Christians – who are called to be salt and light to the world – do nothing. Our stand is for life, marriage and family. Our stand is for the future and the well-being of humanity. There is no room for compromise or passivity. If we do not take a stand, then we are accomplices to the evil around us.
Universities must assist students who have same-sex attractions in living a life of chastity, Kirby said.
"The homosexual lifestyle is one of narcissism and selflessness. Since it does not contain a natural complementarity, it leads to nowhere," he told The Fix. "It is a farce that attempts to mimic the natural union of man and woman."
MORE: Catholic priest gives advice on how to stop 'After School Satan' groups
These fraudulent unions "[cause] harm to those involved, as well as to the institution of marriage and the well-being of family life and society."
"Catholic universities, and those who work at them, are called to stand and be a voice of reason and moral truth," he said. "Catholic universities are to be a type of mission control center to teach and spread the Gospel of Jesus Christ, especially those truths that can serve as a leaven to sustain society and help the common good to flourish."
"When Catholic priests or university leaders support the homosexual agenda, they betray the mission and vocation given to them," he said. "In such ways, they deny the truth of the Gospel and a basic philosophy of the human person."
Similarly, "authentic love" requires students not to use someone's "preferred pronouns."
"True love does not succumb to lies or perpetuate deception As such, we must speak the truth in love," he said. "We do not use false pronouns. We must be respectful, but honest in our dealings with others."
He called on Catholic students to "share the truths of life, gender, sexuality, marriage, and family" and "take a stand and be vocal in their witness to truth."
While Catholic students can sometimes be "overly passive" and "simply go along with the prevalent ideology," this cannot continue, the priest told The Fix when asked about students being proactive about sharing their faith.
"As Christians, we must allow the Gospel to be a true leaven and help humanity to know its dignity, to cherish the complementarity of man and woman, and to protect and honor the goodness of marriage and family life," Kirby advised.
He suggested Mass and prayer as two ways students can strengthen themselves for the battle over their beliefs.
"Catholic students can participate in Mass, go to Confession regularly, work on their prayer life, study the Sacred Scriptures, know our faith, and seek out fellowship with other believers," Kirby said. "No Christian is called to stand alone. We must seek constant union with God and others."
MORE: Students cry because Catholic chaplain opposes pride flag
IMAGE: EWTN/YouTube
Like The College Fix on Facebook / Follow us on Twitter