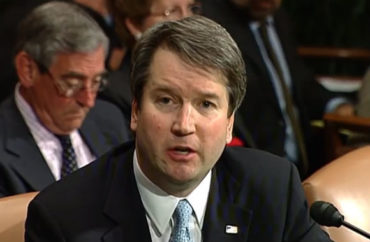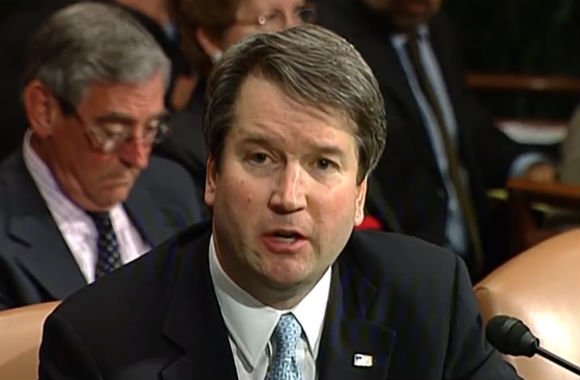 Controversy is following Ángel Cabrera, former president of George Mason University, as he takes the helm at Georgia Institute of Technology. The reason? His support of the hiring of Supreme Court Justice Brett Kavanaugh at GMU as a visiting law professor.
The GT for Survivors group has been vocal against Carbera's hire for months, but the recently revived allegations against Kavanaugh highlighted in a new book prompted its members to reignite their agitation, despite the fact that the claims have been denied by Kavanaugh's alleged victim.
"Students at GT and GMU don't think Kavanaugh's elevation to SCOTUS means that the allegations made against him should have been overlooked when Angel Cabrera hired him to teach at GMU, either @Mason4Survivors," the group tweeted on Sept. 26.
Students at GT and GMU don't think Kavanaugh's elevation to SCOTUS means that the allegations made against him should have been overlooked when Angel Cabrera hired him to teach at GMU, either @Mason4Survivors https://t.co/LmHwZmBWqI

— GT4Survivors (@Gt4Survivors) September 26, 2019
GT for Survivors is also joining the chorus calling for Kavanaugh to be impeached ahead of a large protest slated to take place October 6 in Washington D.C. expected to include members of its sister organization, Mason For Survivors GMU. That group had helped lead protest efforts against Cabrera at the Virginia-based campus in the wake of Kavanaugh's hiring.
In 8 days, on October 6th, we are joining partners to head back to D.C. to demand Congress #ImpeachKavanaugh.

Join us: https://t.co/NGB7fObIlA pic.twitter.com/3jexQSC5sT

— Mason For Survivors GMU (@Mason4Survivors) September 28, 2019
Underscoring this, the Georgia Tech group upped its chatter on Facebook.
"This page and our movement went quiet at the end of the summer, but the 'new' allegations against Kavanaugh have kicked us back into gear. A university president who hired a man accused by multiple people of sexual misconduct should not lead our school," the group posted on Facebook on Sept. 17.
Georgia Tech for Survivors Facebook page was created June 17; the organization was launched before Cabrera ever stepped foot on the urban campus in Georgia to serve as its president starting September 1.
At issue is the fact that Cabrera, while at George Mason University, would not disavow his support of the Antonin Scalia Law School's decision to hire the Supreme Court justice as a visiting law professor for a three-year contract.
An "Open Letter in Opposition to Angel Cabrera" calls for the Board of Regents to "reconsider their selection of Angel Cabrera" as head of Georgia Tech.
"The students of Georgia Tech are dismayed by the selection of Angel Cabrera as our next university president. Dr. Cabrera has demonstrated a lack of empathy and understanding towards gender and sexual minority students and survivors of sexual assault by allowing Supreme Court Justice Brett Kavanaugh, accused of multiple accounts of sexual misconduct, to be hired as a professor at Cabrera's current institution, George Mason University," the letter states.
A Georgia Tech spokesperson and President Cabrera did not respond to multiple attempts for comment from The College Fix regarding the controversy.
In his first address to the Georgia Tech community in mid-September, Cabrera did not address the controversy, the campus newspaper reports. Cabrera earned his PhD at Georgia Tech and met his wife at the school, the article noted.
Margaret Murphy, a biochemistry student at Georgia Tech who is the Google document owner of the "Open Letter" aimed at taking down Cabrera, wrote that "Choosing Cabrera, who chose Kavanaugh, is choosing the side of rapists. You, the voting members of the Board of Regents, have cemented the place of rape culture on my campus and in the University System of Georgia."
At the time of publishing, the open letter had accumulated nearly 200 signatures, many of which were signed anonymously and it is unclear of their affiliation, if any, to the university.
When reached for comment, Murphy declined to comment except to criticize The College Fix.
Micheal Davis, founder of The Article III Project, an advocacy group backing Justice Kavanaugh, told The Fix that the efforts of these "cupcake undergrads" at both Georgia Tech and George Mason University are unwarranted.
"Radical left-wing, dark money groups like Demand Justice are now spinning up cupcake undergrads, whacky faculty members, and the otherwise triggered, to form a rabid mob to demand Justice Kavanaugh's head on a platter," Davis told The College Fix.
"So much for academic freedom," Davis stated.
The College Fix has also reached out to Demand Justice, a left-wing advocacy group calling for Justice Kavanaugh's impeachment, but no response has been returned.
MORE: GMU faculty want new probe of Kavanaugh: 'there has not been a full investigation'
Like The College Fix on Facebook / Follow us on Twitter