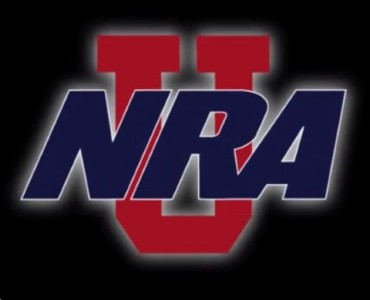 NRA U teaches about Second Amendment, importance of gun rights
When student Adam Miles, president of Students for Concealed Carry-University of Memphis, brought the National Rifle Association to his campus to give a presentation, he wasn't sure what to expect.
As a self-described "diehard advocate for the Second Amendment," he acknowledged he likes to convince people to accept gun-ownership rights, but not by strong-arming them. To that end, the NRA presentation surpassed his expectations.
"I thought it was very admirable that the NRA wasn't pressuring at all towards the student body to join," Miles told The College Fix in an email. "They presented their history, their legislation, and the facts that have been proven over and over again by both private and governmental agencies that show law-abiding citizens are a trustworthy and responsible group."
The National Rifle Association aims to educate the next generation about the Second Amendment through a program called NRA University, or NRA U for short. University of Memphis is one of many colleges the group has visited to that end.
"Today's students are tomorrow's leaders and it's important they have a factual understanding of the Second Amendment," NRA Director of Grassroots Division Glen Caroline told The College Fix.
NRA U is "a two-hour training seminar for college students interested in learning more about NRA, the Second Amendment, gun safety, legislative threats to gun rights and the gun control debate," according to its website.

NRA U was launched in part because the NRA felt there was a lack of college-aged attendees at NRA events, Caroline said in an interview.
The other reason was because of a "willingness of students to listen to the NRA even on liberal campuses," he said. Caroline noted that there appears to be a shift upward of students willing to listen the NRA's position on issues, he added.
NRA U has conducted more than 120 presentations since its inception in 2007, and mostly without incident, he said.
"I hosted one of these events at Harvard University," he recalled. "The Harvard and MIT rifle teams got together and we had a great event. A little bit later the CEO of Starbucks spoke to the business school and his speech was protested because of business practices at Starbucks."
Often NRA U has visited campuses in states that have gubernatorial, senate and other political races underway. However, Caroline said that the programs "aren't organized around a particular candidate."
Students who attend NRA U without a deep knowledge of firearms usually leave with "a factual understanding of what the NRA stands for," he said. "Safety and the hundreds of millions we've spent on safety programs. Responsibility and enforcing the laws on criminals that break the laws, and freedom."
Caroline also addressed actor Vince Vaughn's recent comments about guns in which Vaughn said he felt guns should be allowed in schools and it should be legal to carry guns in public.
Caroline said the NRA didn't have an official opinion of Vaughn, but that the actor's opinions are in step "with our beliefs that law-abiding citizens have a right to defend themselves anywhere they have a legal right to be. We believe American citizens have a right to defend themselves and their love ones anywhere they have a right to be."
Hosting an NRA U event is free for campus groups. Miles said it was worth it.
"It was a very informational and productive seminar," he said. "They had literature and resources for anyone who wanted more information and even gave students a free one-year membership who wanted one. … All in all, I believe it was a great success for our campus, even just from an informational point of view."
College Fix reporter David Hookstead is a student at the University of Wisconsin Madison.
Like The College Fix on Facebook / Follow us on Twitter