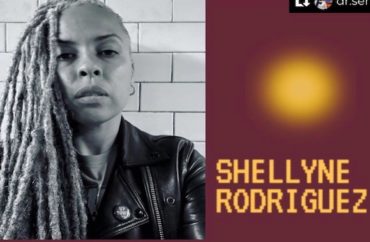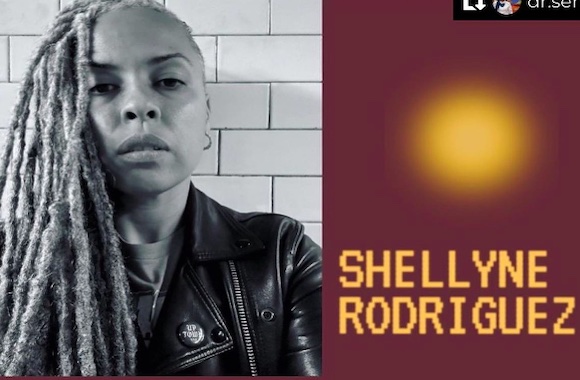 Rodriguez faces harassment, menacing charges
A former art professor fired by Hunter College after allegedly vandalizing a pro-life student table and later threatening a journalist and his photographer with a machete on the streets of New York City appears to be teaching at a new school this fall.
The Cooper Union School of Art, a private college in Manhattan, lists artist Shellyne Rodriguez, 45, of the Bronx, as an adjunct instructor in several places on its website.
Its fall course schedule, dated Sept. 1, shows an S. Rodriguez teaching a three-credit sculpture class. Shellyne Rodriguez is the only faculty member with those initials listed in the faculty and staff directory.
It appears Rodriguez was hired recently at Cooper based on website archives of its faculty directory, which does not mention her prior to Aug. 29.
Kim Newman, media relations manager at Cooper Union, did not respond to The College Fix's repeated requests for comment via phone and email in the past two weeks.
The Fix asked if Rodriguez works at the college, if she is teaching a sculpture class this fall, when she was hired, if the college is aware of the allegations against her, and if it has concerns about Rodriguez's alleged hostile and threatening behavior toward people who do not share her opinions.
In May, a video went viral of Rodriguez berating pro-life students before throwing materials off their display table. Later, a New York Post journalist and a photographer who went to her apartment to interview her about the incident were threatened by the artist, videos show.
One video shows Rodriguez holding a machete to the reporter's neck, threatening to "chop" him. A second dash-cam video shows her brandishing a machete while chasing the reporter and photographer in the street outside her apartment.
Hunter College in New York City fired Rodriguez in May after the incidents made headlines.
She also was arrested and faces charges regarding the incident with the reporter.
Cooper Union appears to have hired Rodriguez as an adjunct instructor sometime over the summer.
The College Fix reviewed web archives of the Cooper Union faculty directory and found Rodriguez's name appears to have been added Aug. 29. Online archives of the directory going back to 2022 did not include her name.
Rodriguez's curriculum vitae on her personal website does not list Cooper Union under her current teaching experience. Her CV says she is an adjunct art professor at the School of Visual Arts, but Mae Ferguson, a spokesperson for the school, told The Fix Rodriguez is not teaching there this fall.
Rodriguez, an artist from the Bronx, was the subject of national news attention in May after the videos of her actions attracted widespread attention on social media.
In the first video, on May 2, Rodriguez approached a Students for Life display table at Hunter College, telling the students their pro-life exhibit was "violent" and "triggering" to her students.
She told the male student at the table: "You can't even have a f—ing baby. So you don't even know what that is. Get this sh— the f— out of here." Before leaving, she grabbed some of the materials on the table and pushed them toward the students and onto the ground, according to the video.
PROFESSOR GONE WILD: Pro-abortion professor Shellyne Rodriquez curses at pro-life students and vandalizes table at Hunter College. pic.twitter.com/QNspuXB4KK

— Students for Life of America (@StudentsforLife) May 17, 2023
Later, on May 23, a New York Post reporter said he went to interview Rodriguez at her home about the incident, and she allegedly assaulted and threatened him.
A video of their interaction showed her holding a machete to the reporter's neck, telling him to "get the f— away from my door" and threatening to "chop" him. After the reporter left, Rodriguez followed him outside and chased him and a photographer around a vehicle with the machete, according to dash-cam video. The reporter also accused Rodriguez of kicking him in the shin.
Rodriguez faces misdemeanor charges of harassment, menacing and weapons possession, according to the New York Post, which reported in mid-August she potentially could receive a plea deal.
Rodriguez describes herself as "an artist, educator, writer, and community organizer" on her website. "Her practice utilizes text, drawing, painting, collage and sculpture to depict spaces and subjects engaged in strategies of survival against erasure and subjugation."
In a statement to ARTnews after being fired, Rodriguez accused Hunter College of "capitulat[ing]" to "racists, white nationalists, and misogynists."
She said Hunter asked her to apologize for the pro-life table incident, "yet before the process could be completed, on May 19th, Students for Life circulated a manipulated video of the incident on social media and mobilized their members and supporters to attack me. For the past two weeks, I have been inundated with vile and hateful emails, texts, and voicemails nonstop."
Rodriguez said the situation has "taken a toll on my mental health, robbing me of my sense of safety, and creating reasonable fear that they would show up at my home to cause me physical harm, as has happened with so many other women who have similarly had their personal info exposed as a form of politically motivated harassment."
"Right wing media organizations are weaponizing and sensationalizing this case to further their agenda, and using me as a prism through which to project their attacks on women, trans people, black people, Latinx people, migrants, and beyond," she told ARTnews.
At least one group, CUNY For Abortion Rights, defended her actions toward the pro-life students in May, saying she "constructively critiqued" the exhibit and "correctly assessed the damage" it was doing to Hunter's "learning environment."
A petition created in May in Rodriguez's defense said the artist's actions "to shut down the tabling were fully justified, and are part of a long and celebrated CUNY legacy of confronting groups such as military recruiters who disseminate misleading information."
Right now The College Fix has a back-to-school campaign to help us continue to support our amazing student journalists. A donation today will be matched thanks to a generous limited-time matching gift opportunity from a friend of The Fix! CLICK HERE for more details — and thank you!
MORE: Hunter College adjunct professor trashes students' pro-life display: 'F***ing propaganda!'
IMAGES: artbysemente_visual/Facebook screencap; CUNY for Abortion Rights/Instagram
Like The College Fix on Facebook / Follow us on Twitter