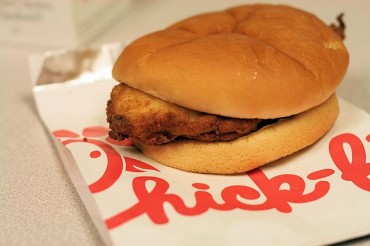 The chicken wars continue. New York City council speaker Christine Quinn wants to kick Chick-fil-A out of the city because the company's president opposes gay marriage. As it happnes, New York University owns the building that houses the city's only Chick-fil-A restaurant.
Commandant Quinn has told NYU to cancel the restaurant's lease. "Chick-fil-A is not welcome in New York City as long as the company's president continues to uphold and promote his discriminatory views," she said, "…I urge you to sever your relationship with the Chick-fil-A establishment that exists on your campus."
It's already illegal to buy a large soft drink in New York City. Now it appears the city is prepared to obliterate free speech rights and impose a political litmus test on anyone who wants to do business there. If you oppose the liberal regime, you are banished. NYC is well on it's way to becoming a dictatorial municipality.
The pressure NYC is putting on NYU to ban Chick-fil-A comes in the wake of a similar case in Chicago. Last week Chicago mayor and former Obama chief of staff Rahm Emanuel famously said he would prevent Chick-Fil-A from opening up a restaurant in Chicago because the company has given money to groups that oppose gay marriage.
It's ironic–the radical left is waging war on Chick-Fil-A because the company's president holds the same view that Barack Obama held until a couple months ago. That irony seems to be lost on Emanuel, Quinn and all the leftists out there who are so ready to wipe out free speech, and the right to free political association, and anything else in the constitution that happens to stand in the way of their political agendas.
Click here to Like The College Fix on Facebook.