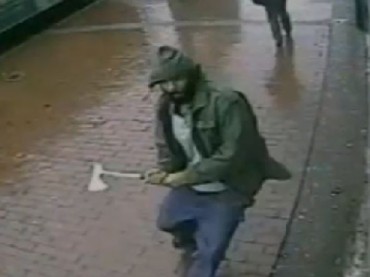 The maniac who used an ax against New York City cops in the name of jihad last week had roughly six years of college under his belt.
The college-educated American terrorist not only had a bachelor's degree but spent at least a year at Columbia University as a grad student.
It remains to be seen what, if any, effect his education had on his world views. But one thing is clear: somehow Zale Thompson – a U.S. Navy veteran – turned against his country.
Four years before radical Muslim convert Thompson ran at four New York City cops with a hatchet – injuring two police officers before being shot dead – he was a grad student attending Columbia University, The College Fix confirmed Monday.
Thompson also graduated with a bachelor's degree in the liberal arts in 2008 from the College of New Rochelle, a spokesperson confirmed to The Telegraph.
It has been widely reported by numerous news outlets recently that the 32-year-old man who attacked the police officers in what has been dubbed by authorities as an act of terror had likely attended the prestigious Teachers College, a Columbia University graduate school; Thompson's public Facebook profile indicated as much.
But it was unclear when he had attended, and for how long. It's also unclear if anyone thought it was relevant.
A lengthy New York Times profile on Thompson published Oct. 25 under the headline "Attacker With Hatchet Is Said to Have Grown Radical on His Own," a double-bylined article with three additional contributing reporters that pieced together the last decade of Thompson's life, did not mention Columbia University at all, let alone interview professors or students who might have remembered him.
Yet in an emailed statement Monday to The College Fix, James Gardner, associate vice president of development and external affairs at Columbia University's Teachers College, said that Thompson attended the New York City graduate school from 2009 to 2010, seeking to earn a master's degree.
"Zale Thompson enrolled at Teachers College in the Fall of 2009 as a Master's degree candidate, and left in 2010 without earning a degree. He had no other subsequent affiliation with Teachers College," Gardner tells The College Fix.
At least the New York Post interviewed a former classmate of Thompson's at the College of New Rochelle, who described Thompson as a "very educated" proponent of "black power."
But the New York Times profile described Thompson's history by saying: "Mr. Thompson, for at least the last decade, appears to have been adrift."
Adrift? Earning your bachelor's degree and attending grad school is being "adrift?"
Recent reports about Thompson say he had an extremist ideology. It's unclear how his six years of college might have helped shape that philosophy.
The New York Post reported Oct. 25 that he "wanted 'white people to pay' for slavery." The Post also interviewed his father:
"I didn't know it would get that serious," the father said wearily of his son, a Navy veteran described by former friends as "bright" but radically pro-"black power" in his youth and a Muslim convert in recent years.
The Post also reported Thompson was pro-ISIS and supported jihad. He had been involuntarily discharged from the Navy in 2003, possibly for drug use, the New York Times reported.
Jennifer Kabbany is editor of The College Fix (@JenniferKabbany)
Like The College Fix on Facebook / Follow us on Twitter