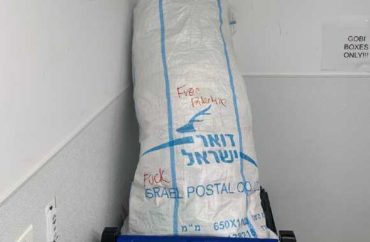 Student hired Palestine Legal to defend her
A NYU graduate student accused of antisemitism for writing anti-Israel graffiti on a discarded mailbag last fall has been barred from returning to her job this semester amid an investigation.
NYU fired Naye Idriss for writing "Free Palestine" and "Fuck" above the word "Israel" on an Israeli mailbag in the recycling bin in NYU's Elmer Holmes Bobst library, where she worked as an Arabic translator, Washington Square News reported. Idriss studies at the Hagop Kevorkian Center for Near Eastern Studies at NYU. The university is investigating her for alleged vandalism and antisemitism.
Idriss has hired Palestine Legal to defend her in the investigation, according to StopAntisemitism. The nonprofit "protects the civil and constitutional rights of people in the U.S. who speak out for Palestinian freedom," according to its website.
The NYU Student Government approved in December 2018 a resolution "inspired by the Boycott, Divestment and Sanctions movement," according to a news release from NYU Students for Justice in Palestine.
NYU graduate student Naye Idriss is being investigated by the school for vandalism and antisemitic bigotry after she wrote "F*ck" Israel and "Free Palestine" on a mail bag in the Bobst Library.

Idriss has hired Palestine Legal to defend her vandalism. pic.twitter.com/m0zDmpnHll

— StopAntisemitism (@StopAntisemites) January 30, 2023
NYU reached an agreement with the United States Department of Education's Office for Civil Rights in September 2020 which "held that the university must include a revised statement prohibiting discrimination on the basis of shared ancestry or ethnicity in its non-discrimination policy," Washington Square News reported.
Another instance of antisemitic graffiti reported at Berkeley last week
This is at least the second time that antisemitic graffiti has been in the news in as many weeks.
The message "No Jew go away" was found written in red marker on a door in the student union building at UC Berkeley on Jan. 24, The Jewish News of Northern California reported.
A spokesperson for UC Berkeley, Dan Mogulof, said all relevant personnel had been informed, including campus police, various departments, and the Center for Jewish Studies, according to the news outlet.
"There is no way of knowing if the person or persons responsible were affiliated with the campus," Mogulof said.
MORE: Antisemitic memo defending Palestinian attacks against Israel draws scrutiny at NYU Law
IMAGE: @StopAntisemites/Twitter
Like The College Fix on Facebook / Follow us on Twitter