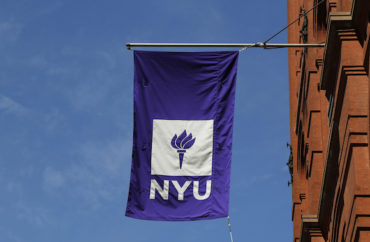 'Palestinians are not obligated to engage in racialized nonviolence theory,' SJP argues
A memo that defends Palestinian attacks on Israel supported by a parade of student groups at New York University School of Law has drawn scrutiny because the school formally banned antisemitism in 2020 to resolve a federal civil rights complaint.
The 1,500-word statement, first reported by the Washington Free Beacon, argues that Palestinians are completely justified in their actions against Israel.
It was penned April 11 by NYU Law's Students for Justice in Palestine chapter and co-signed by 11 student groups, including the Black Allied Law Students Association, Middle Eastern Law Students Association, Muslim Law Students Association, Women of Color Collective, and NYU Review of Law and Social Change, the Beacon reports.
The statement was a response to Law Students for Israel's email arguing the Middle East "is big enough for all its indigenous peoples to enjoy self-determination, security, and prosperity."
NYU Law's Students for Justice in Palestine responded in part that "Israel is not a 'victim' that needs saving from Palestinian 'terror'; rather, Israel is an apartheid regime that colonized Palestinian land by forcefully removing much of the Palestinian population and forcing those remaining to live in a constant state of fear and oppression by denying them their basic human rights and dignity."
It goes on to accuse Israelis of killing Palestinians in prison cells, as well as when they're "walking down the street, seeking or providing medical care, inside their own home, or while observing Ramadan."
The SPJ memo also rebuffed the notion Israel is merely "defending itself," arguing Israel is a military super power.
"People living under occupation have a right to resist their violent occupation. … Palestinians are not obligated to engage in racialized 'nonviolence' theory … as they stay trapped in the world's largest open-air prison, or as they are brutalized and killed by Israeli state agents and settlers."
The Beacon reports that the SPJ memo created a pile-on against Jewish students, that "they encountered a torrent of vitriol."
New York University did not immediately respond to a request for comment from The College Fix on Wednesday.
The Beacon reports that "NYU may have no choice but to punish these students because the university in 2020 agreed to adopt a zero-tolerance policy toward anti-Semitism as part of a settlement with the Department of Education's civil rights office."
As The College Fix reported at the time, NYU agreed to revise its nondiscrimination policy to ban "discrimination on the basis of shared ancestry and ethnic characteristics, including anti-Semitism."
The university also pledged to "address and ameliorate discrimination and harassment based on shared ancestry and ethnic characteristics, including anti-Semitism that involves student clubs."
The law school told students it's investigating the harassment complaints "as required by our policies," the Beacon reports.
MORE: NYU formally bans anti-Semitism to resolve federal civil rights complaint by Jewish student
IMAGE: Leonard Zhukovsky / Shutterstock
Like The College Fix on Facebook / Follow us on Twitter