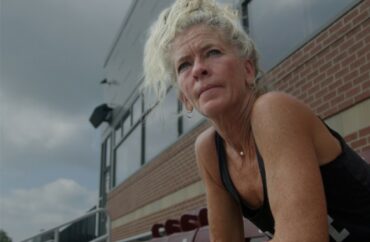 'It is my job to be a voice for everyone who is too afraid,' lacrosse coach says
A head coach investigated by her liberal college for questioning transgender swimmer Lia Thomas' victories spoke out in a new short documentary.
"It is my job to be a voice for everyone who is too afraid, who needs to keep their job," Oberlin College lacrosse coach Kim Russell said in the eight-minute video produced by the Independent Women's Forum, a conservative policy institute.
🆕BREAKING: Head Women's Lacrosse Coach at Oberlin College is breaking her silence in an @IWF documentary after being "burned at the stake" for her support of single-sex sports & speaking out against allowing men in women's sports. https://t.co/n1MPhiM4D5 pic.twitter.com/WgD57sAYxR

— Independent Women's Forum (@IWF) August 29, 2023
"It is scientific that biologically males and females are different," Russell said in the documentary. "I don't believe biological males should be in women's locker rooms. Where is the MeToo movement? What happened to that?" she continued.
One of Russell's lacrosse players reported the coach's spring 2022 Instagram post to Oberlin administrators after Russell called swimmer Emma Weyant the "real winner" of the March 2022 500-yard NCAA championships freestyle, according to a Tuesday news release from IWF.
Weyant, a University of Virginia swimmer, had come in second behind University of Pennsylvania swimmer Lia Thomas, a male.
"The report triggered a series of lengthy disciplinary meetings and a full-fledged character assassination campaign against [Russell] involving Oberlin faculty and the women's lacrosse team," according to IWF.
Russell, who has been coaching for 27 years, said she felt "burned at the stake."
In a series of disciplinary meetings with athletics directors, administrators and student athletes, Russell was labeled "unsafe" and told to apologize, she said in the documentary.
Russell said she recorded every meeting. In one clip Oberlin Senior Associate Director of Athletics Creg Jantz can be heard saying "[i]t's acceptable to have your own opinions, but when they go against Oberlin College's beliefs, it's a problem for your employment."
Russell felt pressured to recant and began to draft an apology letter as requested.
However,  she added, "I started to write one and then thought, 'No, I'm not writing a letter of apology. I'm not sorry.' "
One of the most difficult parts of the ordeal was losing the close relationships she had with some of her lacrosse athletes, Russell said.
"That just broke my heart because you love these kids like they're your own, and when they hurt, you hurt, too," she said in the video.
While Russell still has her job, she said knows she could lose it for speaking publicly.
"Do I believe I'm at risk of being fired, of having a storm hit me?" Russell said. "Yes. Am I ready for the storm? Yes."
MORE: Lia Thomas teammate reveals how Penn silenced dissent
IMAGE: Independent Women's Forum
Like The College Fix on Facebook / Follow us on Twitter