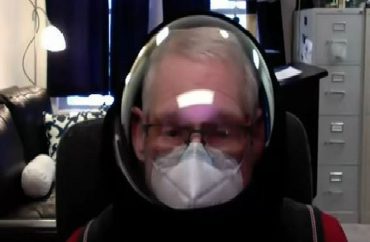 'The university should be celebrating and defending Dr. Mehler, not summarily disciplining him,' attorney argues  
A Michigan professor who was recently suspended after calling students "c*cksuckers" and "vectors of disease" is demanding reinstatement, arguing people have misinterpreted his tongue-in-cheek teaching style, which he argues keeps students engaged and awake in class.
"College students come into a class … and when their caffeine runs out, they just buzz out. Nobody passes out in my class. They don't go to sleep in my class. And they remember the things that I present, because it is so (expletive) funny and outrageous and bizarre. They know when they come into my class and they sit down, they know they're going to be transported to another planet," Ferris State University history Professor Barry Mehler told MLive in a telephone interview Tuesday.
Mehler, a 27-year veteran instructor, was suspended last week and the university launched an investigation after a video of his profanity-laced introductory lecture to students went viral. He has since lawyered up.
"The university should be celebrating and defending Dr. Mehler, not summarily disciplining him," attorney Matthew Hoffer wrote to Ferris State University administrators, threatening a lawsuit if they do not reverse the suspension, the Associated Press reported Tuesday.
Inside Higher Ed described the lecture style as "part performance, part protest." The Foundation for Individual Rights in Education argued the scholar cannot be fired for his "comedic" performance:
Although the video, which Mehler calls a "show," was meant in jest — as an entertaining introductory performance to give students some information about the class while showing off Mehler's eccentric personality — and Mehler has performed a similar lecture, including the "Deadwood"-inspired scene, for over a decade, on Tuesday, Ferris State placed Mehler on administrative leave, alleging that he violated the university's overbroad Employee and Student Dignity policy.

The policy, which sounds like a mother's pre-church-service warning to an unruly child, outlines expectations to conduct oneself "with dignity and respect" and "make responsible choices." (FIRE warned about this very policy, giving it our "yellow light" rating, meaning it could "too easily be used to restrict protected expression.")

Today, FIRE wrote to Ferris State in support of Mehler's academic freedom to teach pedagogically relevant material in this comedic style — even if some find it offensive. As we explain in our letter, Ferris State must drop its investigation into Mehler and return him to the classroom so as not to violate its obligation to respect faculty expressive rights under the First Amendment. FIRE is also providing Mehler with an attorney, Matthew Hoffer, through our Faculty Legal Defense Fund.
Comments Mehler said to students during his introduction include:
"I want to introduce myself before we actually meet F to F, as we say these days, which everybody knows means f*ck to f*ck—which really means that we're all f*cked […] You people are just vectors of disease to me, and I don't want to be anywhere near you. So keep your f**king distance. If you want to talk to me, come to my Zoom."

"If you want to go complain to your dean, f*ck you. Go ahead. I'm retiring at the end of this year, and I couldn't give a flying f*ck any longer."

"No liberty (expletive) of an administrator is going to tell me how to teach my class, because I'm a (expletive) tenured professor, so if you want to complain to your dean, (expletive) you."

There is "no benefit whatsoever from coming to class. I will not take questions in class, because I'm wearing this f**king helmet in order to stay alive. So please come. Enjoy the show. I'll be there regularly, because I have no choice. You, on the other hand, have a choice. Thank you very much."
The term "c*cksuckers" was used when Mehler taught the students the difference between plagiarism and proper citations using a scene from the television show "Deadwood." He mimicked the vulgar scene to students, then cited its original source, to teach them about the concept.
The Associated Press reported that Ferris State declined to comment on Mehler's threat to go to court if he's not reinstated by Wednesday.
MORE: Ferris State U. professor suspended following profanity-laced video
IMAGE: Barry Mehler / YouTube screenshot
Like The College Fix on Facebook / Follow us on Twitter