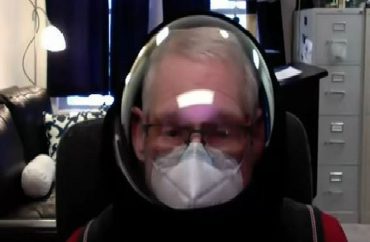 A professor at Ferris State University in Michigan has been suspended due to a video tirade to his students regarding the new semester.
Barry Mehler, "an historian of science and racism" according to Inside Higher Ed, begins his recording donned in a space helmet and face mask, noting he just returned "from Rigel 7."
It seems the professor has a real beef with COVID-19 and policies related to it as he says the "intergalactic Internet is all abuzz about this planet" where suffering "is through the roof."
"I don't know whether you people have noticed, but it's dangerous to breathe the air," Mehler says according to The Washington Post. "Many of your experts are advising wearing masks because there's a deadly virus spreading around the planet. Your civilization is collapsing and life on your planet is going extinct."
The 27-year veteran instructor follows up with "I want to introduce myself before we actually meet F to F, as we say these days, which everybody knows means fuck to fuck—which really means that we're all fucked […] You people are just vectors of disease to me, and I don't want to be anywhere near you. So keep your fucking distance. If you want to talk to me, come to my Zoom."
To anyone who felt an urge to complain about his language, Mehler had this advice: "If you want to go complain to your dean, fuck you. Go ahead. I'm retiring at the end of this year, and I couldn't give a flying fuck any longer."
MORE: Prof goes on massive Twitter rant against The Wall Street Journal
He later tells students he assigns grades based on "predestination," and as such doesn't "even want to know [their] names" —  he just looks at their [student] numbers and gives them a grade.
Mehler continues, "Before any of you go running to complain, and it happens every semester—'Dr. Mehler said I shouldn't come to class'—let me clarify my attendance policy to you." Professors, he says, "have complete discretion with regard to attendance policy," and "Everything you need to earn an A is available to you on our [online] Canvas page."

There is "no benefit whatsoever from coming to class," Mehler says. "I will not take questions in class, because I'm wearing this fucking helmet in order to stay alive. So please come. Enjoy the show. I'll be there regularly, because I have no choice. You, on the other hand, have a choice. Thank you very much."

Mehler says the show is sponsored by Camel cigarettes, an example of "pure capitalism, turning death into profit." …

Asked about speculation about Mehler's well-being, [Physics & Chemistry Professor Charles] Bacon said, "I assure you, Barry did not have a breakdown. In fact, his style, which he developed over the last decade, is to be controversial in order to challenge students' inherent mental models and biases. It is something that we all strive to do."
Bacon, who also serves as Ferris State's faculty union president, said Mehler's suspension is an "attack on academic freedom" and part of the "continued" national effort at "suppressing intellectual discourse."
A student interviewed by ABC-13 said Mehler's rant was indicative of his "way of keeping everybody's attention" and would be "taken out of context." He added the professor should keep his job as the issues he raised are valid.
According to his Rate My Professors page (excluding entries following the video), Mehler is a mixed bag. One comment from January 2020 says the professor "is quite the character" and that "if you don't like cursing, you might not want to take him as he swears a lot."
Read the IHE and WaPo articles.
MORE: Teacher 'no longer employed' following anti-Trump, anti-parent rant
IMAGE: Barry Mehler/YouTube screencap
Like The College Fix on Facebook / Follow us on Twitter