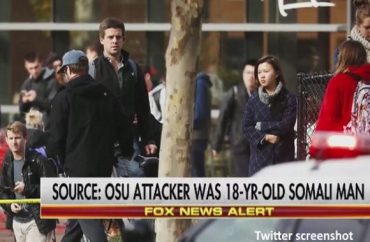 An Ohio State student named Mackenzie called into Sean Hannity's radio show Dec. 1 to voice her frustration over how campus leadership responded to President Donald Trump's election compared to how it responded to the recent terrorism-inspired rampage on campus.
The person responsible for the car-and-knife attack at Ohio State University on Monday that left nearly a dozen hospitalized is 18-year-old student Abdul Razak Ali Artan, a Somali refugee and lawful permanent resident of the U.S. He was shot and killed by a campus police officer.
"After this terrorist attack I've truly learned that the left is more scared of conservatism and Trump and Republicans than they are of ISIS and terrorists," Mackenzie told Hannity. "Because after this terror attack I haven't heard anything about, you know, 'We're praying for the victims' or this and that. I've heard things about how we need to understand Islam, the vibrant Somali community we have here, how we need to embrace them even though this is the third attack by a Somali in the last year here in Columbus, and all this stuff about, you know, Muslim sensitivity."
"That's all they care about," she continued, "and they are more scared of the Right and Trump than they are of this terrorist attack that just happened on our campus. It's sickening to me because I feel like they are gambling with my life in order to reach this multiculturalism lie that they worship in all of my classes — and it's crazy."
Compare that with the hysterical reaction on campus after Trump was elected.
"After the election, my professors went crazy," Mackenzie said. "I remember calling my mom and saying 'You would think Hitler just got elected and massacred half the country.' It was ridiculous. Trump was called a Nazi, a rapist, a white supremacist, one of my professors actually said we should be terrified because Mike Pence believes women don't have the right to exist, or deserve to exist is actually what she said. People were crying, my classes were canceled, massive protests on campus … emails from professors about staying strong and how we are all going to lose our rights but it's going to be OK. And it was crazy. I just couldn't believe it."
MORE: OSU stabbing suspect praised terrorist, told America 'stop interfering' in Muslim land
Recent reports about Artan indicate he was likely inspired by al Qaeda and ISIS, and the Islamic State has also claimed responsibility for the attack. At the time of the rampage, he was also taking a class on microaggressions and working on an assignment to find microaggressions and identity victim-targets.
There have been calls for understanding in the wake of the attack, as Mackenzie asserted.
Cincinnati.com reports that "with more than 50,000 residents, the Somali refugee community of Columbus is the second largest in the United States, behind only that of Minneapolis."
It interviewed an Ohio State professor, also a Somali refugee, who stated the attack "doesn't represent our community, who we are. … I have to double my efforts to reach out to as many sisters and brothers at Ohio State University inside and outside the campus. We are American and we're not going anywhere. We need to reach out and tell people we are the same as them."
Ohio State's Stephanie Clemons Thompson, an assistant director of residence life, also called for compassion for Artan in the immediate aftermath of the attack in a Facebook post, adding she would unfriend those who shared photos of his dead body or "celebrate his death."
It's not unheard of for a campus community to mourn its terrorist-inspired attacker.
Last year, after Faisal Mohammad went on a similar knife attack at UC Merced, injuring four before being shot and killed by a campus police officer, the campus community mourned Mohammad, and called for understanding.
Some professors blamed toxic masculinity for the attack and ignored how Mohammad was found with an image of the ISIS flag, a handwritten manifesto with instructions on how to behead someone, and reminders to pray to Allah.
"People were quick to sympathize with the attacker and assume anyone who thought this was related to radical Islam was a xenophobic racist," a UC Merced student told The College Fix at the time. "One of the most disturbing things I saw on Facebook was that a student made a RIP Mohammad post that received nearly 800 Likes."
MORE: UC Merced mourns stabbing spree attacker Faisal Mohammad, seeks to understand him
Like The College Fix on Facebook / Follow us on Twitter