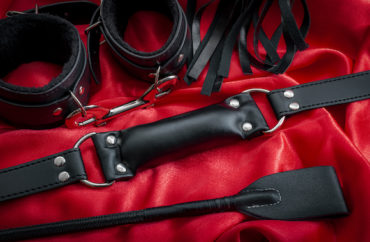 'Kink,' LGBT workshops also part of the programming
Ohio State University's "Sex Week," a seven-day event touted as a "judgement-free, inclusive, relatable space" for sex education, was funded this year primarily by "crowdsourcing" and some partnerships with local restaurants, one of the organizers of the events told The College Fix.
Among the more than 30 different sex-themed events and meetings offered were workshops with a dominatrix as well as a woman who identifies herself as an "orgasm coach" and erotic writer.
Sponsored by the university's Student Advocates for Sexual Health Awareness, the mission of OSU's Sex Week, according to its website, is billed as "educat[ing] our community about sexual health in all its forms."
"We believe that realistic sexual health is interdisciplinary, and includes non-traditional topics like LGBTQ sex ed, healthy masculinity, gender equality, and reproductive rights. We aim to connect to our peers through dynamic, comprehensive activities that are geared towards the needs of our community," the group states.
The event's Twitter account tweeted last month that it hoped to raise $3,000 for the week's programming, which concluded on Sunday. According to the school's student activities portal, student organizations "may apply for up to $2000 or $3000 in programming funds," but club president and founder Abby Rinderle told The College Fix that the group was not using university-supplied money to bankroll the project.
Rinderle said in an email to The Fix that the school does not grant top-tier funding to new organizations. "We actually are not eligible for $3,000 because we are a relatively new organization and you have to be established for a few years. We are eligible for $2,000, though we are not using any of those funds for Sex Week. We fundraise outside of Ohio State and partner with various Columbus organizations in order to make Sex Week happen," Rinderle said.
Rinderle said the group's fundraising came from a variety of different streams.
"The vast majority came from crowd funding. A small proportion came from restaurant fundraisers, where OSU has a list of restaurants that will allow any student organization to get a certain percent of profits from sales accompanied by a flyer for the organization in a given night," she said.
Rinderle added that much of this is made possible through volunteers.
"I think people are usually surprised by how many speakers simply volunteer their time. Everything is organized and run by students who are passionate about the topic. Almost all event spaces are on campus, and therefore free for students to rent."
Rinderle did not wish to name specific community partners, "but they are all health-related non-profits or smaller Columbus businesses," she said.
Programming offers sex techniques, sex education, LGBT material
The week-long festival has a schedule displayed on its website. Events included "Slip N' Glide Lube Sampling Booth," "Graphic Sex Project," "Sit-Down With a Sexpert," "Kink 101," "The Queer Unicorn's Guide to Sex Ed," and more.
Some of the events brought in outside speakers to teach students about various sexual topics. "Join us as a local Columbus dominatrix talks about different types of kink, figuring out what's right for you," one event description reads.
"Sit-Down With a Sexpert," meanwhile, was a workshop discussion with Debra Shade, an "erotic author and Orgasm Coach" who is reportedly "known for pushing the envelope."
"Join us as Ms. Shade shares her pantheon of knowledge on navigating modern dating, maximizing sexual pleasure, and finding the elusive G-spot!" the website declares.
Another event, the final of last week's programming, titled "Boys Don't Play with Barbies," promised to explore "how masculinity impacts us in the 21st century…outdated social norms be damned." That talk was facilitated by three university affiliates.
MORE: School's Sex Week organizers say learning about 'Butt Stuff' is crucial
MORE: Harvard hosts 'Anal Sex 101,' 'Oral Sex 101' and 'fatphobia' workshops
IMAGE: Victor Mousa / Shutterstock.com
Like The College Fix on Facebook / Follow us on Twitter