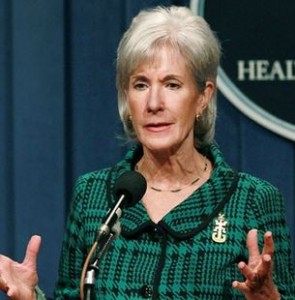 Remember the lady who flubbed the Affordable Care Act roll out so badly that she resigned in disgrace? Ohio State wants to give the Obamacare flunky one of its highest honors.
Former Health and Human Services Secretary Kathleen Sebelius – an Ohio native – has been tapped to receive an honorary degree by the college's Committee on Honorary Degrees and its University Senate, and Ohio State's board of trustees is set to vote on the matter Friday.
The recommendation to the board gushed in part that "as Secretary, Ms. Sebelius led ambitious efforts to improve America's health and enhance the delivery of human services to some of the nation's most vulnerable populations, including young children, those with disabilities, and the elderly."
Try not to choke on your coffee when you read the resolution's next line:
"In addition, Ms. Sebelius was committed to ensuring that America continues to lead the world in innovation."
To be fair, she had a distinguished career before the Obamacare fiasco. But it's hard to forget how she went out.
Adding salt to the wound, Columbus Business First reports that "the honorary degree proposal came out in Monday's Ohio State board of trustees' agenda. That was the same day Ohio Attorney General Mike DeWine sued the Obama administration over the Affordable Care Act. DeWine, Warren County and four Ohio universities said in a federal lawsuit that $6.25 million in Affordable Care Act taxes on self-funded health insurance plans for public workers are unconstitutional."
UPDATE: Got this on Twitter, thought I'd share:
@JenniferKabbany College Fix post on Ohio St. & Kathleen Sebelius should note she is daughter of fmr Ohio Gov. – very connected in OH pols

— EJ Hill (@RicochetEJHill) January 28, 2015
Jennifer Kabbany is editor of The College Fix (@JenniferKabbany)
Like The College Fix on Facebook / Follow us on Twitter
IMAGE: United Nations Office at Geneva, Switzerland