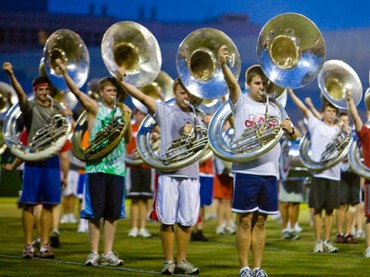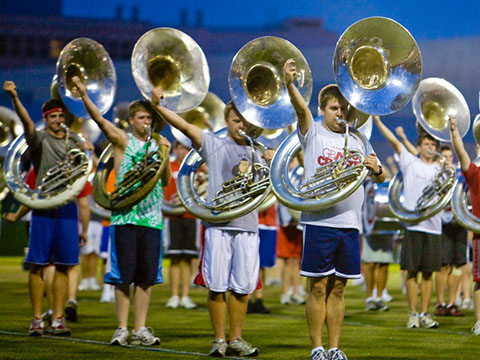 Ohio State is making a strong case that it's the university equivalent of the neo-pagan orgy "Christmas Critters" episode of South Park.
First it came out that a psychology class was teaching students that atheists are smarter than Christians, and now the Ohio State marching band's heavily "sexualized" culture has gotten its director fired.
A two-month investigation revealed a veritable carnival of sexual horrors practiced in the marching band and tolerated by band director Jonathan Waters (not the flamboyant director of Hairspray), The Columbus Dispatch reports:
Rookies were forced to perform "tricks" on command. In one case, a female student was told to imitate a sexual act on the laps of other band members, including her brother.

Several witnesses said that students performed a "flying 69" on tour buses, in which band members hung from the luggage racks and posed in a sexual position. Waters was on the bus when that happened as recently as last fall, according to Pam Bork, a band volunteer who quit last year.

Bork, who volunteered as a health official, reportedly told Waters on the bus, "If I have to hear the word penis or vagina one more time, I'm going to scream." Bork quit soon after because Waters would not address alcohol abuse on that trip, she told investigators.
The school's official investigation report catalogued in eye-popping detail band practices that would make Bob Saget blush:
The "tricks" section of the report (page 7) lists what sexually depraved actions the nicknamed rookies took "either on command or at their own volition"
An incredibly lewd "Rookie Exam" given to new band members (see in particular pages 15-20)
An "unofficial" marching band songbook with rewritten lyrics full to the brim with graphic sexual slurs and practices (some of which could be considered homophobic or misogynistic)
The fired director has his supporters, with some saying the band has been like this for decades, the Dispatch said:
Diana Gilmore was among those who found the punishment unfair. She said similar behavior has been part of the band since at least the 1970s, when her husband was a photographer for the band. She traveled on the tour bus and said she saw lewd behavior. She still has a photo of band members on the field raising middle fingers to the camera as her husband snapped a shot.

"This has been going on. Waters did not start this –– it's a culture that's been going on for a long time under everybody," said Gilmore, whose husband, V. Scott, has since died.
For a quick rundown of the most objectionable parts of the exhibits, see this Deadspin article. The full Dispatch article is here.
UPDATE: The school has released a statement saying that, besides Waters' firing, it appointed "Betty Montgomery, former Ohio Attorney General, to lead an independent task force, reporting directly to President [Michael] Drake and the Chairman of the Board of Trustees, to review this matter in its entirety."
Drake also speaks on video in the statement, noting he joined the school only three weeks ago.
h/t Daily Caller
Like The College Fix on Facebook / Follow us on Twitter
IMAGES: Photographer/Flickr, Investigation report screenshot